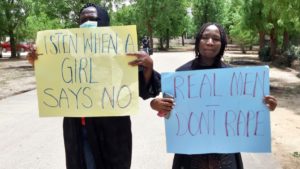 Convicted Child Rapists Will Be Surgically Castrated And Will Be Facing Death Penalty Under New Laws In Nigeria
The governor of the Kaduna State of Nigeria has signed a law that states men and women that get convicted of rape will now be facing surgical castration along with the death penalty.
Anyone that rapes a child under the age of 14 will be facing the death penalty under the new legislation.
The new laws come after a rage over recent increases of rape amidst the coronavirus pandemic.
Nasir Ahmad el-Rufai said that drastic penalties are required in order to help protect children against such criminals.
Women's groups have called for tougher actions against rapists, which includes the death penalty.
The new law of the Kaduna state is currently the strictest law against rape in Nigeria.
Anyone that is convicted a teen will be facing life imprisonment.
Previous law carried out a maximum penalty of 21 years in prison for the rape of an adult and life imprisonment for the rape of a child.
If a woman is convicted of raping a child under the age of 14, their fallopian tubes will be removed.