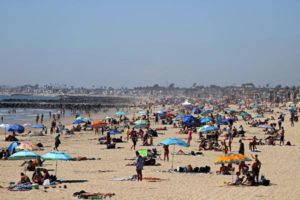 Nearly 40,000 People Hit California Beach To Cool-Off During Coronavirus Pandemic
Thousands of people in Southern California were seen hitting the beaches on Friday to cool-off from the springtime heat during the coronavirus pandemic.
RIGHT NOW: This is the scene from #Air7HD in Newport Beach, CA as the #COVID19 death toll surges in Southern California @ABC7 #LosAngeles pic.twitter.com/Nmta8hU69H

— Chris Cristi (@abc7chriscristi) April 24, 2020
Temperatures reached nearly 100 degrees in some parts of Los Angeles County, but beaches in San Diego County are still closed due to the ongoing coronavirus pandemic.
But that fact did not stop around 40,000 people from going to the Newport Beach in Orange County on Friday.
Newport Beach does not feel like it's in the middle of a pandemic. Although some are following stay-at-home and social-distancing rules, thousands are at the beach without masks. @HaileyBWinslow reports: https://t.co/TOj1YCctdN

— FOX 11 Los Angeles (@FOXLA) April 25, 2020
The beach is still open to the public despite all the chaos in the United States.
The beachgoers were from counties in Los Angeles and San Diego.
Dr. Barbara Ferrer, director of the L.A. County Department of Public Health, talked about the massive gathering and said:
We don't need you to go out and get infected in another county and then bring yourself, infected, back here to L.A. County.
Twice as many people were at the beach on Friday compared to Thursday, said lifeguards at the beach.
Brian O'Rourke, Lifeguard Battalion Chief, said:
We're seeing a huge increase in crowds that we would normally see out here in the middle of the summer.
The lifeguards at the beach said some of the people that were at the beach practiced social distancing and were wearing masks, but not all of them practiced the precautionary measures.
The beach was open to the public, but the pier, parking lot, and its boardwalk were closed.
Coronavirus USA
As of writing this article, the novel coronavirus has infected over 987,000 people in the United States of America and has killed 55,415 people due to health complications that were brought by the deadly disease.
A total of 118,781 people have recovered from the virus, which still has no vaccine for prevention or cure.