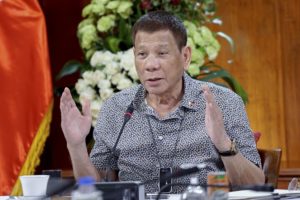 Philippine President Rodrigo Duterte Orders Top Customs Chief To Shoot And Kill Drug Smugglers
Rodrigo Duterte, the President of the Philippines, has ordered the top customs official of the country to shoot and kill drug smugglers that are caught.
This latest threat towards drug smugglers and pushers is part of the country's war against drugs, which has also been the centerpiece of the President's presidential campaign.
President Duterte has denied giving full authority of extrajudicial killings, however, he has openly threatened drug dealers that are still selling drugs and are ruining the lives of many to face death if they get caught.
People that are killed in the Philippines for being part of the drug trade are said to have fought back and threatened the lives of the law enforcers.
Recently, President Duterte came back with a similar order.
During a televised interview, President Duterte gave the order to the Bureau of Customs Commissioner Rey Leonardo Guerrero.
Guerrero, a retired army general and former military chief of staff was not around when Duterte gave the orders. However, the President did say that he met him and 2 other officials earlier this week at the Presidential Palace, which is located in Manila, Philippines.
President Duterte said that drugs are still flowing into the country through customs.
He also said that he had approved the request of Guerrero for firearms so they could fight back.
He then said:
I approved the purchase of firearms and until now you haven't killed even one? I told him, 'Shape up'.
Under the anti-drug crackdown of President Duterte's regime, over 5,700 drug suspects, whom many say are mostly poor citizens, have been killed.
Human rights groups and governments from the Western countries have bashed the presidency of Duterte.
Despite all this, Duterte vowed to continue the deadly crackdown in his remaining 2 years in power.
Human rights groups said that their investigations showed some suspects were killed mercilessly then police officers altered the crime scene, where many people and officials claim that law enforcement officers placed firearms to make the case look like that they were fighting back.
As a response to this claim, President Duterte and law enforcement officials said that people who think there are flaws in their cases should file official criminal complaints in the court so justice could be brought.
Very few of this happens in the country.
What are your thoughts about President Duterte and his strict policies? Let us know what you think by leaving a comment below!