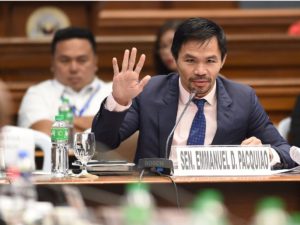 Boxing Legend Manny Pacquiao Says He Is Not Afraid To Die While Defending The Philippines During Coronavirus Outbreak
Senator Manny Pacquiao, who is a boxer, said that he is not afraid to die while defending and serving his country amidst the coronavirus outbreak.
Pacman, who is the only 8 division champion in boxing, entered the political arena in 2010 and is currently a senator in the Philippines.
Pacman made his huge fortune and name as a fighter, where he is considered by many as the best fighter of our generation.
Explaining his will to sacrifice himself for his country, he said, "If you are a leader, you have to be a front-liner. You have to lead people and let people see that you are with them. I grew up poor. I know what they feel."
The 41-year-old has helped provide 50,000 testing kits through his foundation and has used money from his own pockets to donate 5 buses to transport healthcare workers around the capital of the Philippines, Manila.
Not only that, the boxing legend has also donated 600,000 face masks to front-liners fighting the disease.
As of writing this article, the Philippines currently has 501 confirmed cases of the novel coronavirus, which has caused the deaths of 33 people in the country.
Due to the pandemic, Manny "Pacman" Pacquiao has placed his boxing career on hold to combat the virus in his country.