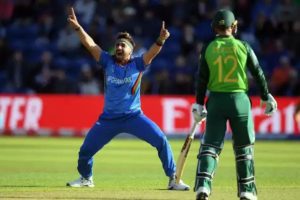 Fast Bowler Aftab Alam Suspended For Misbehaving With A Woman In Southampton
Aftab Alam, a fast bowler of the Afghanistan Cricket Team, has been suspended by the cricket board of Afghanistan for one year after he misbehaved with a woman guest at the hotel the team was staying in England during the Cricket World Cup Tournament.
The decision to suspend the fast bowler from both domestic and international cricket came after the investigation that was led by the Disciplinary Committee of the Afghanistan's Cricket Board.
Alam was sent back to Afghanistan during the World Cup in England, it was said that he was being sent back in "exceptional circumstance".
But reports suggested that Alam was sent back to his country after he misbehaved with a woman who was staying as a guest at the team hotel in Southampton, England.
The last game the fast-bowler played was on June 22 against India in Southampton.
He was then suspended for 2 games by Phil Simmons, the head coach of the Afghanistan Cricket Team, for skipping the ICC Anti-Corruption Meeting on June 23.
Alam was reportedly with a relative in London and came back to the hotel after the meeting happened.