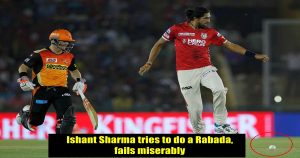 Ishant Sharma Tries To Do A Rabada In KXIP-SRH's Match, But Fails Miserably [WATCH VIDEO]
Kings XI Punjab gave Ishant Sharma a chance to prove himself for the first match at Mohali against Sunrisers Hyderabad in IPL 2017. Ishant was given a chance at a pro pace Mohali wicket. Kings XI Punjab Captain Glenn Maxwell had kept a lot of hopes on Ishant after he started off well giving just 3 runs in his first over.
Everyone was surprised seeing the way Ishant bowled his first over as he generally gives many runs to the opposition. But the tall pacer does himself no favors as he showed some football skills when he tried to roll the ball onto the stump, with his foot, only to miss the target by a few feet.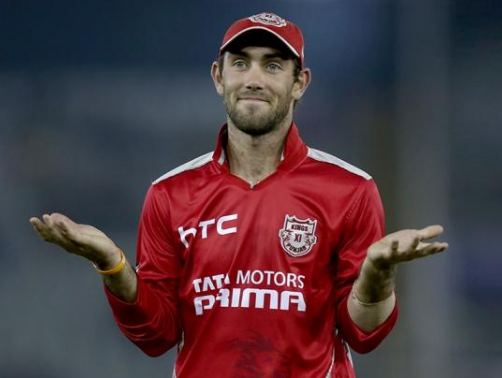 The incident took place in the third over when Ishant had just been hit for a six by Shikhar Dhawan, cramped the SRH opener for the room with an in swinging back of length delivery. However, Dhawan defended the ball well and couldn't hit it away from the pitch. David Warner, who was at the non-striker's end gave the call for a single but found Ishant outpacing him to the ball.
Ishant tried to do a Kagiso Rabada act by kicking the ball towards the wickets. Rabada has done it against Mumbai Indians where he was successful there. In the match, Ishant reached the ball before Warner could and calmly side-footed the ball towards the stumps. The only problem was that while Rabada had been able to hit the stumps with deadly accuracy, Ishant missed it by a country mile.
The fun was watching Glenn Maxwell's reaction on the screen in the replay. Maxwell couldn't help but smile at the fiasco he witnessed.
Watch It Here:
" alt="">
To everyone's surprise, Ishant started off well giving just 3 runs in his first over. But, the way Ishant ended his spell up giving 41 runs in 4 overs isn't that shocking.