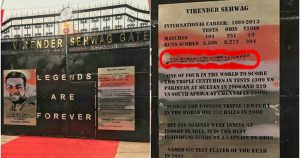 Virender Sehwag Gate At Feroz Shah Kotla Stadium: DDCA Goofs Up, Forgets Karun Nair's Feat
The Delhi District Cricket Association (DDCA) named Gate 2 of Feroz Shah Kotla Stadium as the "Virender Sehwag Gate" and inaugurated it on Tuesday. But the occasion was tarnished with DDCA's goof-up. They got the cricket legend's Test statistics wrong.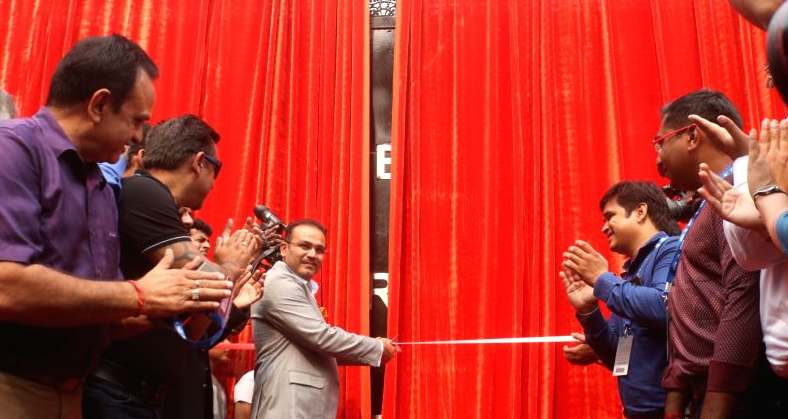 The first T20 between India versus New Zealand will be played at Feroz Shah Kotla on Wednesday. Amid all the euphoria, the DDCA failed to proof-read Sehwag's Test statistics displayed on a metal plate embedded on the iron gate.
The gate has been named after Sehwag but in the achievements column, it was referred to Sehwag as the "ONLY Indian batsman to score a triple hundred in Test matches." Whereas, India have two players who have scored triple centuries in Test cricket.
' VIRENDER SEHWAG GATE ' was unvielded today by the SULTAN OF MULTAN @virendersehwag himself #DDCA pic.twitter.com/wTiw38XusZ

— DDCA (@DDCA_Cricket) October 31, 2017
While Sehwag is the first player to hit a triple century in Test cricket from India, Karun Nair is the latest. Nair hit a triple century against England in Chennai last year. Whereas, Sehwag is the only Indian to score two triple centuries in Test cricket for India.
Typical of the DDCA, no one took responsibility for the faux pas. When asked the state association for clarification, nobody was ready to speak on the matter. Normally quick to react on flaws, Sehwag was quite gracious, choosing not to blow up the blunder.
Head Coach @RaviShastriOfc and #TeamIndia members congratulate @virendersehwag after the gate at Feroz Shah Kotla was named after him. pic.twitter.com/bveVvQtUrP

— BCCI (@BCCI) October 31, 2017
During the function, Sehwag expressed his thoughts on the honor, he said, "It is a great honor and today we have a gate named after a cricketer but later we can have a dressing room, stands and other things named after cricketers. It's a good thing and positive move from DDCA. I had a wish that whenever such a function happens, we should call all the cricketers who have represented Delhi and India."
Watch The Video Here:
— Virender Sehwag (@virendersehwag) October 31, 2017
"I remember when I started off, I used to daily cross this gate and now it has my name. There will be many more cricketers from this state who will have stands, gates, pavilions named after them but I am glad that I am the first one. I feel very fortunate and would like to thank the DDCA for this honor," Sehwag said.
Sehwag said the gate should inspire young cricketers. "Any young cricketer will get motivated reading the name. Virender Sehwag played here as a kid and when he left there is a gate named after him, so if I can also play for U19, U16, U23 or Ranji for Delhi and then represent India, then a gate, stand or something will be after my name," the Nawab of Najafgarh added.
Also Read: How Virender Sehwag's Tweet Brought Bad Luck To AB de Villiers' ODI-Double Hundred