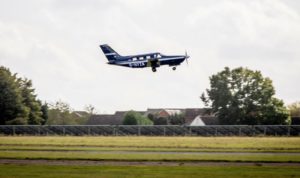 Zero Emission Aviation: First Ever Hydrogen-Powered Passenger Plane Takes Flight From U.K. Airport
Researchers and experts all over the world are doing their best to help save our planet, and a step that was taken recently shows that we are close in achieving that.
The first-ever hydrogen-powered passenger plane took flight from an airport in the UK last week and the aviation world is just amazed.
We just got one step closer to zero-emission aviation.
ZeroAvia completed the world's first-ever hydrogen-fuelled cell powered flight of a commercial-grade aircraft.
The project is partly funded through the UK government.
The flight in Cranfield, England used 4lbs 6 oz of hydrogen fuel.
The plane managed to get up to 1000 feet of altitude.
The plane had 6 seats, which made it commercial-grade.
The achievement of the aircraft is the first step to realizing the transformational possibilities of moving away from fossil fuels and heavily relying on zero-emission hydrogen.
The company released a statement about the amazing achievement, where they said:
Eventually, and without any new fundamental science required, hydrogen-powered aircraft will match the flight distances and payload of current fossil fuel aircraft.
The latest achievement is part of the HyFlyer project, a research program that is supported by the government of the United Kingdom.
ZeroAvia is now going to turn its attention to the next and final stage of its six-seat development program—a 250-mile zero-emission flight before the end of 2020.
Val Miftakhov, the CEO of the company, released a statement about the incident, where they said:
It's hard to put into words what this means to our team, but also for everybody interested in zero-emission flight. While some experimental aircraft have flown using hydrogen fuel cells as a power source, the size of this commercially available aircraft shows that paying passengers could be boarding a truly zero-emission flight very soon.
Nadhim Zahawi, the Business and Industry Minister of the UK, released a statement about the latest achievement.
Minister Zahawi said that creating or developing an aircraft that is capable of creating less pollution will help the country achieve the goal of becoming a zero-carbon emission country by 2050.
He said in the statement:
Developing aircraft that create less pollution will help the UK make significant headway in achieving net zero carbon emissions by 2050. It shows that technologies to clean up air travel are now at our fingertips – with enormous potential to build back better and drive clean economic growth.
The company is based in California and London.
Right now, the heads of the company want to control hydrogen fuel production and supply for its powertrains, and other commercial customers.
What are your thoughts about this latest achievement? Let us know what you think by leaving a comment below!