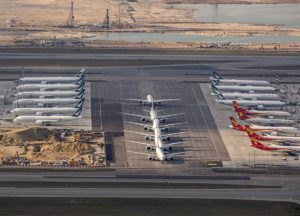 Coronavirus Outbreak Can Bankrupt Most Airline Companies By The End Of May
Aviation consultants warn that the coronavirus outbreak can bankrupt a number of airline companies all over the world by the end of May this year unless the government and the aviation industry would take coordinated steps to avoid such situations.
Many airline companies have been driven into technical bankruptcy or substantially breached debt covenants already.
The warning was made by CAPA Centre for Aviation, a Sydney based consultancy.
Carriers are depleting cash reserves quickly because their planes are grounded and those that are not flying anymore are half empty.
In a statement CAPA released, they said, "Coordinated government and industry action is needed – now – if catastrophe is to be avoided."
They added, "Emerging from the crisis will be like entering a brutal battlefield, littered with casualties."
CAPA said airline companies in the United States, China, and the Middle East are likely to survive because the government is helpful and supportive.
According to the International Air Transport Association, airline companies all over the world can face as much as $113 billion USD in revenue lost this year.
Qantas and other major airline companies in the world have announced that they will be cutting down their flights by 90 percent amidst the coronavirus outbreak.
As of writing this article, the coronavirus outbreak has infected 199,478 people all over the world and has killed 8,009 people.