11-Year-Old Chinese Boy Sells Vegetables Every Day Before School So He Could Pay For His Brother's Medical Bills
An 11-year-old Chinese farm boy sells vegetables every day before school to help pay his brother's medical bills.
Last year, Yan Yihang, the 11-year-old boy, donated his bone marrow last year to save his brother, who was diagnosed with aplastic anemia, a rare blood disease.
In order to pay for the ongoing treatment for his younger sibling, the 11-year-old dedicated boy wakes up by 5 am every day so he could sell vegetables in the local market.
He does this every day, even if it's raining.
During an interview with a local news agency, Yan said, "I want to save my brother. I want to go to school with him together. These vegetables are grown by my family and I want to earn some money by selling them."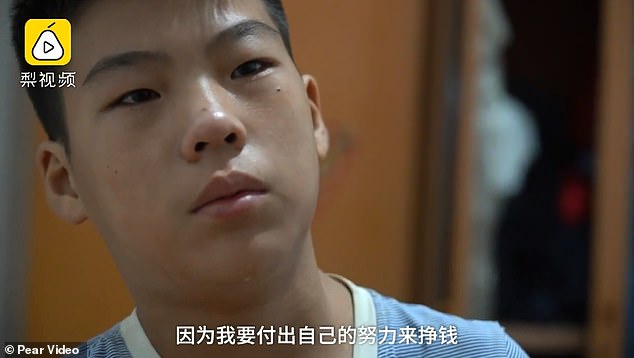 Another thing with Yan is that he doesn't accept donation from people.
He explained why he does such thing, "I want to earn money with my own effort."
Yan is a 5th-grade student in Shitai Village of the Henan Province, in China.
The boy is the backbone of their family and has set an example for many in their area.
His younger brother, Yan Ce, who is still 7-years-old, was diagnosed with aplastic anemia in 2015 and was asked to undergo treatment that would save his life.
To cover the expensive medical bills, his grandparents borrowed 700,000 yuan from their friends and relatives so they could save their grandson.
The father was forced to work in a different city as a laborer so he could chip in for the expensive medical bills.
Aplastic anemia is a life-threatening condition in which the bone marrow and the stem cells do not produce enough blood cells for the body to stay healthy.
As part of the treatment, anyone who is diagnosed with aplastic anemia is asked to be treated with a bone marrow transplant so the body could start to produce enough blood cells.
Last year, doctors suggested little Ce should undergo a bone marrow transplant operation.
The father of Yihang could not donate his bone marrow due to medical concerns, but when the bone marrow of Yihang matched, he offered his right away.
Recalling the surgery, Yihang said, "It was a little painful, but I was not scared. Because only through this could my brother recover quickly."
The vegetable stall that Yihang handles now was managed by his grandmother, but after his 66-year-old grandmom had a stroke earlier this year, the little man took over the business.
Every day, Yihang gets up at 5 am and plucks the spring onions from the field and rides a cycle to the local market by 6 am.
He sells the spring onions for one yuan per bunch.
After selling out the onions, he goes to his school.
He said, "I go to check my stall during my lunch break and close my stall after I finish school in the evening."
Yihang also does his own accounting by the evening at his house.
Yihang talked about his earnings, he said, "There are many kind-hearted people. I once earned 50 yuan (£5.6) in one go, but there were other times when I sold nothing."
After working hard for 4 straight months, Yihang earned 1,182, which is around $200.
Yihang brought the money with him when he visited his 7-year-old ill brother at the First Affiliated Hospital of Zhengzhou University.
When he reached the room, he pulled out the money from his school bag, this shocked his mother.
Zhai Feifei, the mother, said her eyes started to tear up when Yihang handed the money to her.
She added, "My son has grown up and knows how to share responsibility with me."
Yihang wants his brother to recover so they could go to school together.