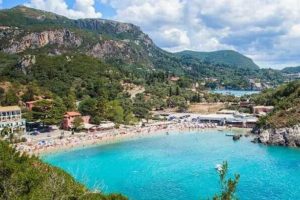 14-Year-Old British Girl Raped By 32-Year-Old Albanian Hotel Worker During Family Holiday In Corfu
A 14-year-old British girl was allegedly raped by a 32-year-old Albanian hotel worker while she was on a holiday with her family in Corfu.
The 32-year-old hotel worker has been arrested by the police in Dassia, on the east of the Greek Island.
The arrest came after the parents of the 14-year-old girl informed the police about the incident.
Reports suggest that the 32-year-old man has confessed the crime.
The 14-year-old girl also identified the man.
The Daily Mail reports that a source confirmed the crime.
The source said, "He was turned over to the police and has confessed to the rape. A case file has been opened against him."
Residents of Corfu are currently in shock.
The security directorate of Corfu is currently looking into the case.
Officials and the family of the girl are currently being supported.
The Greece Police and authorities refused to share any information about the incident to the public.
The police did not release the name of the hotel where the teen was staying at.
The Foreign Office Spokesman confirmed the incident and said that they are in constant contact with the Greek Police.
The spokesman added that they are also helping the family of the teen.