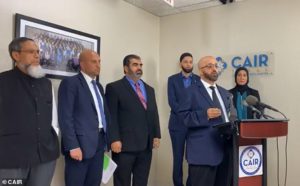 American Airlines Flight Crew Freaked Out And Canceled Flight When 2 Muslim Men Waved To Each Other
An American Airlines Flight Crew freaked out and decided to call off the flight after 2 Muslim men wave to each other.
The 2 Muslim men have filed a complaint with the U.S. Department of Transportation against American Airlines and alleged that their flight was canceled after they waved to each other in the flight.
The 2 men said they were racially profiled by the crew of the American Airlines Flight they were in.
One of the Muslim men said, "It was really the most horrible, humiliating day of my life."
Abderraoof Alkhawaldeh and Issam Abdallah, the 2 Muslim men, were boarding a plane from Birmingham, Alabama, to Dallas, when they were racially profiled by the American Airlines Crew.
According to the 2 Muslim men, who are 2 community leaders from Dallas, said their flight to Dallas was canceled after the crew did not feel "comfortable" traveling with the 2 on the plane.
The 2 men said that everything was going well when they boarded the flight, but when the 2 saw each other, they waved.
The 2 were traveling separately and saw each other in the flight.
While waiting for the crew to sort out the issues they were facing before the takeoff, Abdallah got up and went to use the restroom, where he flushed twice.
When Abdallah came out, he realized that a flight attendant was standing close to the bathroom door.
According to Alkhawaldeh, "The flight attendant reported that he went to the restroom and flushed the toilet twice. The last time I know, flushing is allowed in this country."
When the 2 Muslim men got off the American Airlines Flight, they were approached by the law enforcement officer and had their bags screened for the second time.
According to the American Airlines spokesperson, the flight was being staffed and originated by Mesa Airlines, a regional carrier.
According to the airlines, the flight to Dallas was canceled "due to concerns raised by a crew member and a passenger."
The statement added that they are reviewing the incident.
The statement continued, "We have reached out to Mr. Alkhawaldeh and Mr. Abdallah to better understand their experience."
On Thursday,  the 2 Muslim men addressed the incident at a press conference at the Council on American Islamic Relation DFW Chapter.
Abdallah said he felt discriminated against by his religion and ethnicity.
He added, "It was the most horrible, humiliating day of my life."