Big Boy "The Goat" Breaks Inside House, Pees All Over The Carpet, And Takes A Nap Inside Bathroom
An Ohio homeowner may have never thought that they would make it on the news headlines because of a goat butting its way into their house.
Jennifer Keathley, the owner of the house, was shocked and laughing at out loud after finding out that a goat rammed its way into their house and was found taking a nap inside their bathroom.
Jennifer said, "This is the most random story in the world."
The break-in happened last week, but it was not a burglar.
An escaped male goat from a farm that is located a couple of miles away, repeatedly butted against a sliding door.
The goat managed to break into the house of Jennifer in Sullivan Town, which is located in Ashland County, Ohio.
Logan, the son of Jennifer, was the one who saw the Billy Goat inside the bathroom when he came home from school on Friday afternoon.
Logan said he came home on Friday afternoon from school to find the family's pet dog on their driveway, broken galls on the back porch, and the house full of urine.
Luckily, the breaking in of the goat was recorded by the surveillance camera of the house.
Logan called in the police, and 2 Ashland County Sheriff's deputies came to the rescue.
The officers tried to coax Big Boy, the goat, out of the home with grass, carrots, and a dog bone.
Eventually, the 2 officers grabbed the goat by the horns and dragged him outside where they placed him in a dog cage.
Jennifer ended up placing a message out for the goat on a page on Facebook, where a user messaged her and told her that the goat belonged to a farmer.
The owner, who apologized, came to the house of Jennifer later that day and loaded his goat onto a livestock trailer so he could bring it home.
The damage in Jennifer's house was limited to the shattered glass of their back door, but Big Boy, the goat, urinated throughout the house.
Jennifer said that their home insurance policy only covers damages from deer or bears, and not goats.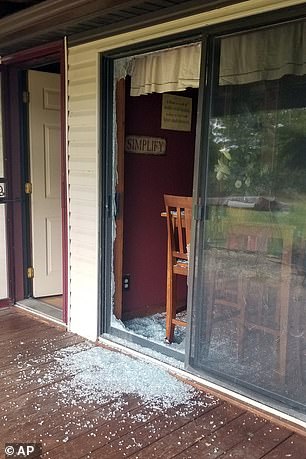 Jennifer is now in touch with the farmer's insurance company, with hopes of getting her house fixed.
Jennifer says the online thing that bothers them is the odor of Big Boy's urine, which still lingers throughout their house.
She said they have tried urine neutralizers and carpet deodorants, but they failed to work.
Talking about their unique story, Jennifer said, "There's all these awful stories in the world, people need this."
Looks like big boy "the goat" couldn't resist his pee-pee.