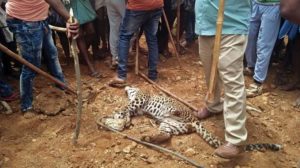 Caught On Camera: Villagers Brutally Kill A Leopard In Front Of A Forest Ranger In Karnataka
Villagers of the Kurubarahalli Village in Chitradurga District of Karnataka brutally killed a leopard in front of a forest ranger officer, after it allegedly attacked two villagers while they were working in a garden, the entire incident was captured in a video.
The Kurubarahalli village is located 200 kilometers away from Bengaluru.
Here is the video of the horrific act:
The video shows the villagers surrounding the leopard and brutally beating it up with sticks.
Locals said that the leopard attacked two locals in the village while they were working in a pomegranate garden.
The locals added that the leopard attacked the villagers for two straight days.
Villagers then launched a search operation for the leopard so they could catch it.
When the villagers found the leopard on a tree, they started to throw stones at the animal so it could come down. The leopard then charged towards the mob and when it was quickly beaten up by sticks.
Locals killed the leopard by beating him up with huge wood sticks.
The entire incident happened in front of a Forest Ranger.