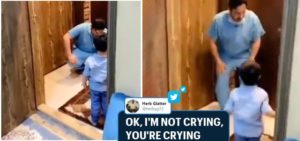 Doctor Breaks Down In Tears After Failing To Hug Son Due To Coronavirus
The coronavirus pandemic is keeping our medical families away from us, this is because they are making sure we do not get the virus.
A perfect example of this is a doctor from Saudi Arabia.
Dr. Nasser Ali Al Shahrani, a doctor from Saudi Arabia, was returning home from a shift at King Salman Hospital in Riyadh, when his little boy ran towards him with his arms open wide.
In a viral video, Dr. Ali, who was wearing scrubs, puts his hands out and says "no, no" before crouching down and wiping his tears from his eyes.
During an interview with a local news agency, Dr. Ali explained why he shared the clip on social media.
Dr. Ali said, "The aim of the clip was to make citizens and residents aware of hazards of the coronavirus and to comply with arrangements and instructions of the Health Ministry."
The doctor said that he and other medical professionals all over the world are making sure that they do not get the virus or spread it to their family.
He explained, "All colleagues should avoid approaching their children and families until they wash their hands and take the necessary precautions."
Everyone should be practicing social-distancing.
As of writing this article, 869,997 people have contracted the virus.
The coronavirus has caused the deaths of 43,123 people all over the world.