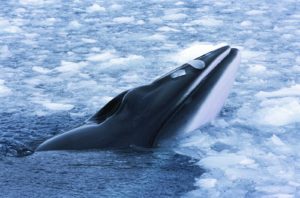 Fishermen In Iceland Will Not Hunt Whales For The First Time In 17 Years
Fishermen from Iceland will not hunt whales this summer, this will the first year in 17 years that the fishermen will abandon the whale hunting season.
Owners of fishery companies explained why they will be skipping this season, they said that the low demand for whale meat in countries like Japan has forced them to abandon the whale hunting season this year.
Small amounts of Minke Meat will be sent out from Norway so they could fulfill the domestic demand.
Whalers from Iceland said that they will focus on harvesting sea urchins this year.
Kristjan Loftsson of Hvals hf, the only fishery company in Iceland that is allowed to hunt for whales, said that they will not be fishing for whales this summer.
Loftsson explained their decision, he said that this was all because of the low demand in the Japanese Market.
But according to a captain, the real reason why fishermen were skipping this year's hunting season is that the permit was not handed out in time.
After the Hvals hf announced their decision, whalers also announced that they will be skipping this year's fishing season.
According to Gunnar Bergmann Jonsson, the owner of the minke whaler IP Operators, the company will fish sea urchins in this summer.
The Marine Research Institute of Iceland, which is government-run, also announced that they will not be catching any whales this year. The institute uses whales for research purposes.
This means that no whale will be killed or hunt in the country this year.
The last time this happened was in 2003 when a temporary ban on whaling was placed.
In 2006, a law was signed where for-profit whaling was allowed in the country.
Even the temporary pause of hunting whales for this season, Gunnar Bergmann Jonsson said that they will be hunting minke next year.
The sudden fall in demand for whale meat comes after when Japan allowed its fishermen to hunt for whale again.
A new law in Japan restarted commercial whaling operations, the country fished whales for the first time in 31 years.
Earlier this week, 5 trawlers departed from Kushiro Port and went back with 2 minke whales just a couple of hours after they departed.
The country has been hunting whales for "research purposes" for years, but the government changed the law and allowed fishermen to conduct commercial whaling this year.