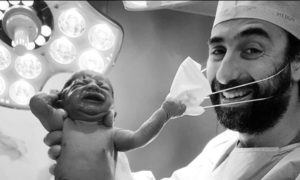 Newborn Baby Tries To Remove Doctor's Surgical Mask
If we wear masks for the next 10 years, some people might think that our lips or mouths are a private part.
In a picture that is viral on the internet right now, a newborn baby could be seen trying to remove the mask of a doctor.
The baby was being held by a doctor after it was born.
This just shows how masks have become a symbol of hope for so many people, including newborn babies!
This year, the coronavirus pandemic has caused a lot of chaos all over the world. From lockdowns, protests, and harsh restrictions, people are just getting sick and tired of the masks and extra precautionary measures we have to take.
A picture that is viral on the internet right now shows that we are not alone.
The baby could be seen in the picture trying to remove the surgical mask of a doctor after it was brought into this world.
The picture was shared on social media by Samer Cheaib, a Dubai-based doctor, along with the caption: We all want a sign that we are going to take off the mask soon.
The doctor was holding the newborn baby in his hands when they tried to remove the surgical mask that he was wearing during the delivery.
What are your thoughts about this unique and very inspiring picture? Let us know what you think by leaving a comment below or dropping us a message on our Facebook page!