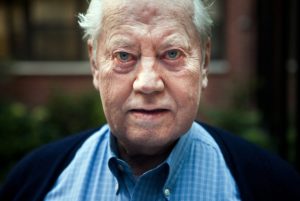 The Hero We Need: Billionaire Gives Away Entire Fortune After 38 Years Of Secret Donations
In 1982, a billionaire businessman set up a philanthropic foundation that had a sole goal, which was to secretly give away his entire fortune.
38 years later, the billionaire had managed to give away his entire fortune.
He did it at the age of 89.
Chuck Feeney, the hero that we all need, made his money from the duty-free shopping business, which helped him get 8 billion dollars throughout his life.
Feeney, an Irish-American, is known for his frugality and humility and the best thing about him is that despite being so rich, he does not own a car.
He rents a small apartment, he flies economy class, and only owns 1 pair of shoes.
Feeney, the co-founder of the Duty-Free Shoppers Group, managed to keep his charitable activities hidden from the public for 15 straight years until his identity was revealed to the public in 1997. He sold some of his shares at that time.
Until 2005, he managed to keep a low profile.
Between 2005 to 2007, Feeney cooperated with Conor O'Cleary, a journalist, to write his biography as they promoted "Giving While Living".
In 2007, Bertie Ahern, a former Prime Minister of Ireland, launched the book at Trinity College in Dublin.
Fast forward to this week, The Atlantic Philanthropies, the foundation of Feeney, ran out of money.
Feeney said that he was extremely happy that everything got done on his watch.
He is currently urging other rich people to experience the joy of giving some of their fortunes while they are alive.
Talking about his amazing act of generosity, Feeney said:
Wealth brings responsibility. People must define themselves, or feel a responsibility to use some of their assets to improve the lives of their fellow humans, or else create intractable problems for future generations.
Feeney donated around $3.7 billion to higher education institutions, this includes $1 billion to Cornell University, $870 million to a number of human rights groups, $1.9 billion to fund various projects in Northern Ireland and the Republic of Ireland, where he helped found the University of Limerick.