Uber is now offering "ScUber" a submarine service that can bring you to the Great Barrier Reef
The Great Barrier Reef is in the bucket list of all frequent travelers, the reef is home to more than 1600 species of fishes and 600 types of coral reefs, and it stretches out more than 1400 miles off the coast of Queensland, Australia.
And in order to help you go there and experience what it looks like under the Great Barrier Reef, Uber is not offering a Submarine that can bring you down there.
Uber is set to launch a new service, it will be called the "ScUber", the service allows users to jump inside a submarine that will allow you to see the natural beauties of the earth.
The regional GM (general manager) of Uber Australia and New Zealand, Susan Anderson, said, "Uber is committed to harnessing the power of technology for good. We are proud to partner with Queensland to help showcase the Reef to the world with the launch of ScUber. At Uber, we believe good things happen when people move – whether that's by getting people from A to B in their city, or by making dreams come true experiencing the world's greatest natural wonder, the Great Barrier Reef."
She added, "We're looking forward to seeing how visitors to the Great Barrier Reef embrace this new form of movement and become advocates of the Reef for years to come."
Leanne Coddington, the Chief Executive Officer of Tourism and Events in Queensland, Australia, said, "We're thrilled to partner with Uber to showcase the beauty of the reef through this innovative experience."
She added, "In addition, we're giving several adventure seeking travellers from around the globe, the chance to win a ScUber experience for two as part of a global travel competition launched today."
The new service will be launched on 27 May and will be offered on Heron Island, which is near Gladstone.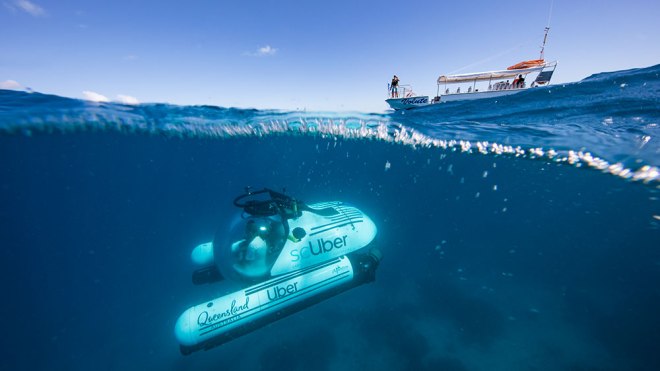 Uber is also set to launch a new ScUber in Port Douglas and the Great Barrier Reef region on June 9.
So how much does the service cost? The ScUber will cost around $3,000, if you got the money, hop in…
First, Uber will pick you up and bring you to a helipad, and a helicopter will bring you to the Heron Island, after that you will get to experience a one hour ride in the ScUber and then a return trip.
All that for $3000.