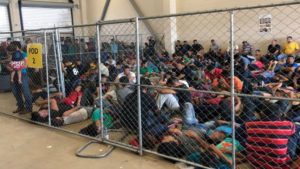 US Border Patrol Will Not Offer Flu Shots To Migrant Families In Detention Centers Even After The Death Of 3 Kids
In a statement that was released by the Customs and Border Protection, they said that the government of the United States of America does not plan to provide flu shots to migrant families that are in detention centers.
Since December 2018, 3 children have died from the virus while they were detained at the border.
The CBP released a statement to CNBC and said there are no vaccines administered in any of its facilities.
The statement said, "In general, due to the short-term nature of CBP holding and the complexities of operating vaccination programs, neither CBP nor its medical contractors administer vaccinations to those in our custody."
Earlier this year, advocates reported that detention centers are having problems in providing water, soap, and accessibility of toilets to the detainees
Experts believe that overcrowded places such as detention centers could easily lead to huge outbreaks,
Since December 2018, 3 children have died from flu-like symptoms while they were kept at detention centers for crossing the US-Mexico border illegally.
8-year-old Felipe Alonzo-Gomez was one of the 3 kids that died due to the flu-like symptoms. Felipe passed away on December 2018 at a hospital in New Mexico.
Before the first death in December 2018, the United States of America went a decade without dying while under the custody of the CBP.
A number of physicians wrote a letter to Representative Rosa DeLauro and Representative Lucille Roybal-Allard.
The letters asked the 2 representatives to open a congressional investigation that will see the conditions of the detention centers.
The letter states that one in 600,000 kids die in the United States of America annually from the flu.
As of now, there are around 200,000 people being held at detention centers, and the 3 kids who died were included in those 200,000.
The letter said, "These tragic deaths appear to represent more than half of child deaths in the last year in these immigration facilities and to reflect a rate of influenza death substantially higher than that in the general population."
The letter added, "Another influenza season is around the corner…Timely action is critical."
The Customs and Border Protection says kids receive HHS after they leave detention facilities.
Kids undergo tests, which include a physical test, and are given vaccines.