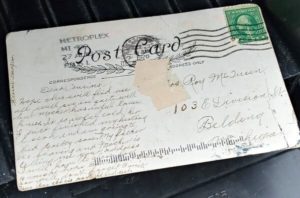 What Did It Say? American Woman Receives Postcard That Was Mailed In 1920
A woman in Michigan, USA, was up for a surprise when she got a postcard, that postcard was something that she had not expected because it was mailed in 1920.
That's 100 years late!
Brittany Keech, the woman, got a postcard in her mailbox that was mailed in 1920.
Keech shared the amazing news on Facebook along with pictures of the postcard. She also asked social media users to help her find the rightful owner of the letter.
The card has images of a black cat holding a broom, a bat, a goose, and an owl. There is also a woman with a cane and jack-o' lantern in a witch's hat.
Sharing the images on Facebook, she said:
I received this in the mail today. It appears to be a really old letter. I would like to get it to them or to a family member. Does anyone know this person? Their first name is missing. Just saw that it is dated for October 29th 1920. Any help would be great.
The postcard had the address of Keech, however, the postcard was supposed to be received by Roy McQueen.
Keech shared the letter with CNN with hopes of finding the right owner.
Here is the complete content of the letter:
Dear Cousins,
Hope this will find you all well. We are quite well but the mother has awful lame knees. It is awful cold here. I just finished my history lesson and am going to bed pretty soon. My father is shaving and my mother is telling me your address. I will have to close for a night. Hope grandma and grandpa are well. Don't forget to write to us – Roy gets his pants fixed yet.
The letter was signed by Flossie Burgess, who many believe is the person that sent the letter to Mr. Roy McQueen.
Keech is 30 and she said that she is hoping to find the previous owner of the house and return the letter to its rightful owner.
This is such an amazing thing!