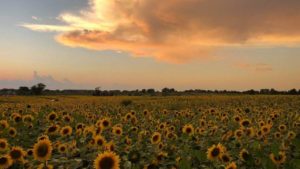 Wisconsin Man Planted Over 2 Million Sunflowers During Coronavirus Lockdown To Help People Smile
A man from Wisconsin, USA, was extremely busy during the coronavirus pandemic as he managed to plant 2 million sunflowers.
He did it to make people smile and spread joy.
Guests at the Thompson Strawberry Farm pay $25 per car group and are invited to cut and take a dozen of the bright flowers home.
Guests are allowed to wander through the fields, take amazing images, and have a good time in the late summer sun.
Scott Thompson, the farmer that we are talking about, is a fourth-generation berry farmer based in Bristol, Kenosha County.
During an interview with the Patch, Thompson said that people this year had been coming from Chicago, Milwaukee, and places in-between the 2 major cities.
Talking about the visitors at his farm, Thompson said:
A lot of people are saying, 'We just needed to get out of the city and come out to a place where I could take my mask off for a couple of hours.'
Thompson and his amazing family are currently welcoming everyone, including Isntagrammrs and photographers that are professional in what they do to help them attract more people.
Thompson said that his and his family's goal is just simple.
The goal is to allow people to enjoy a nice day in the country and bring home something that is extremely beautiful.
The Sunflower season only lasts until the end of September.