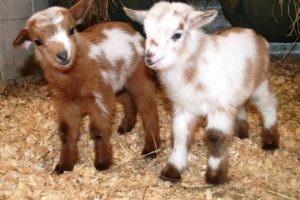 Florida Woman Files Lawsuit Against Neighbor And Is Demanding Goat DNA For Paternity Tests
Odessa, Florida: A Florida woman has filed a lawsuit against her neighbor and is demanding a paternity test on her goats or a refund.
If you are wonder if this is a joke, no it's not, and the woman is really serious.
The woman that we are talking about is Kris Hedstrom, she filed a lawsuit against Heather Dayner, her neighbor, last month.
She wants to get her goats to go through a DNA test after purchasing them.
Hedstrom paid Dayner $900 USD for 5 Nigerian dwarf goats in December, said a report published by WCJB.
According to the lawsuit, Hedstrom believed that the goats, Bella, Gigi, Rosie, Zelda and Margoat, could be registered with the American Dairy Goat Association, a group that records goat pedigrees.
Goats that are registered in the United States of America have higher values than goats that are not registered.
Dayner, the neighbor, has been selling goats at the Baxter Lane Farm for about 10 years.
He said he provides basic information to her clients so they could register the goats by themselves.
However, Hedstrom said that the father goat was registered, but local news agencies said that the American Dairy Goat Association rejected Hedstrom's application to register the babies because Dayner is not an active member of the association.
In order to prove paternity, the owner would need around 40 of the father goat's hair follicles for a DNA test.
As a result, Hedstrom wrote Dayner a letter requesting the DNA in February.
Dayner offered to refund the money in exchange for the goats.
The woman then called the police for 3 months straight and trespassed on the farm of the goat seller.
A Hillsborough County Sheriff's deputy had visited the property at least 3 times in the spring alone.
Dayner, said she did not hear anything else from Hedstrom until the lawsuit was filed.
Man, it looks like these 2 women are getting at it.