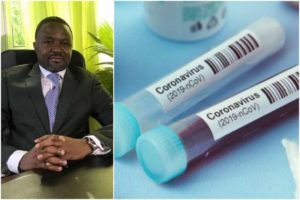 Cameroonian Pastor Who Claimed He Could Heal Coronavirus Dies Less Than A Week After Contracting The Disease
Frankline Ndifor, a popular Cameroonian pastor, has died after contracting the deadly coronavirus less than a week after he contracted the disease.
Before that, Ndifor claimed that he could cure the disease.
Frankline Ndifor, who was a presidential candidate in the country's last presidential election, had laid hands and prayed for the healing of some patients who came to the premises of his Kingship International Ministries Church.
Dr. Gaelle Nnanga, who was called to treat the famous pastor, said that he was suffering severe respiratory difficulties a week after falling ill with the deadly disease.
Dr. Nnanga said that the pastor died less than 10 minutes after he received treatment for the disease.
Shortly after the pastor died, his supporters addressed him as a prophet and block entrance to his home in the capital city of Douala for eight hours on Saturday.
The supporters did not allow the medical staff to get his body.
The governor of the coastal region said that the police were deployed to the house of the pastor when supports blocked the entrance of his home.
The supporters reportedly sang and prayed for his resurrection throughout the weekend.
The dead body of the pastor was retrieved by the authorities after security operatives managed to get inside into the apartment of the pastor.
Authorities buried his body in front of his residence by officials of Cameroon's COVID-19 response team.
Rigobert Che, a follower of the pastor, said:
This is a pastor that has been laying hands [on the sick] and claiming that he cures COVID-19.If you, the person that claims that you are curing COVID-19, you are dead, what about the fellow people that were affected by the COVID-19? Now that he is dead, I do not know how the people that he was laying hands on will be healed.
Hospital health officials are now asking everyone that came in contact with the pastor to come to the local hospitals to get tested for the deadly bug.