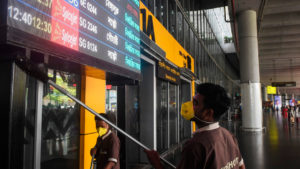 Germany Launches Investigation After Losing 6 Million Coronavirus Masks At Kenya Airport
Germany is investigating the loss of around 6 million masks that were supposed to go towards health workers fighting the coronavirus pandemic.
The 6 million face masks went missing at an airport in Kenya last week.
Authorities in Kenya are currently labeling this as fake news.
German customs officials ordered the shipment of FFP2 masks, which were supposed to arrive in Germany on March 20, 2020.
It is still unclear why the masks ended up in Kenya.
The spokeswoman of the German Defense Ministry said that the authorities are currently trying out to find what happened.
The Spiegel Online was the first one to report the news on the internet.
The news agency said, "Insiders, therefore, suspect that after the deal with the procurement office, the manufacturer might get a better price for its goods and sell the masks there (in Kenya). But it is also possible that criminals stole the delivery at the airport and now sold it profitably in Kenya."
Masks are metaphorically equivalent to gold due to their high demand amidst the coronavirus pandemic.
The KAA (Kenya Airports Authority) said they have launched an investigation about the missing shipment, which was carrying 6 million masks.
However, the KAA said no cargo passed through the Jomo Kenyatta International Airport (JKIA) in the past two weeks.
In a statement that was released by the KAA, they said, "We, therefore, wish to inform the public that we are treating this report of alleged disappearance of six million type FFP2 protective masks as fake news and that our cargo section continues with normal operations."
German Officials told news outlets that were no financial loss on the shipment.
A German Government source said, "What exactly happened, whether this a matter of theft or a provider who isn't serious, is being cleared up by customs."
The investigation is still ongoing.