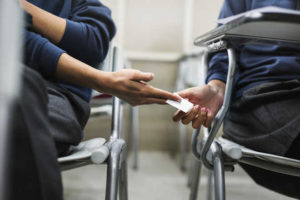 17 People Which Includes 14 Invigilators And An Exam Centre Official Charged With Gangster Act For Supporting Mass Copying
Police Report: 17 people which include 14 invigilators and a superintendent of an exam center were charged with Gangster Act for supporting mass copying in an exam center that happened on February 22, the incident happened in Muzaffarnagar, Uttar Pradesh.
Yogender Pal, the superintendent of the centre was arrested during a raid that was led by the Special Task Force, they caught the mass copying during the Class 12 physics exam.
Ajay Shanker Pandey, the District Magistrate said that 17 people which include Superintendent Yogender Pal, 14 Invigilators, Asher Nafis, and Intakhab were charged under the Gangster Act.
A raid by the Special Task Force caught the mass copying while students were taking their Class 12 Physics Exam, the STF raided the centre after they received a tip-off about the incident.
The police added that no student was arrested.
The Special Task Force recovered a pistol, exam guides, a mobile, and solved exam papers during the raid.
A car was also seized by the STF.