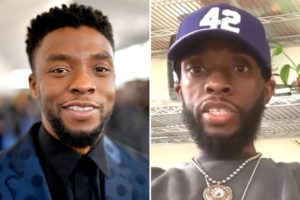 Chadwick Boseman, Iconic "Black Panther Star", Has Passed Away At Age 43 After 4-Year Battle With Colon Cancer
Chadwick Boseman, an actor that was known for his role in the Marvel Cinematic Universe, has passed away at the age of 43 after losing his fight with colon cancer.
It is reported that Boseman fought against cancer for 4 straight years.
The horrible news of Chadwick's death was announced on his social media accounts earlier this morning.
— Chadwick Boseman (@chadwickboseman) August 29, 2020
According to the post, Chadwick died at his house in Los Angeles with his wife and family by his side.
The Boseman family released a statement about the death of Chadwick on Facebook and other social media platforms.
The statement reads:
A true fighter, Chadwick persevered through it all, and brought you many of the films you have come to love so much. From Marshall to Da 5 Bloods, August Wilson's Ma Rainey's Black Bottom and several more- all were filmed during and between countless surgeries and chemotherapy. It was the honor of his career to bring King T'Challa to life in Black Panther.
Chadwick was known for his amazing role in the MCU. He was first seen as Black Panther, King T'Challa, in Captain America: Civil War. He then had a movie of his own.
He was also seen before as Jackie Robinson, James, Brown, and Thurgood Marshall in the movie Marshall.
Here are the comments fellow actors made after the death of Chadwick was announced to the public:
— Brie Larson (@brielarson) August 29, 2020
In power

Eternally in power

— Barry Jenkins (@BarryJenkins) August 29, 2020
I'll miss waiting to see what he does next. Rest in power. https://t.co/PkRjw4HKSF

— Nia DaCosta (@NiaDaCosta) August 29, 2020
I'm absolutely devastated. This is beyond heartbreaking.

Chadwick was special. A true original. He was a deeply committed and constantly curious artist. He had so much amazing work still left to create. I'm endlessly grateful for our friendship. Rest in power, King💙 pic.twitter.com/oBERXlw66Z

— Chris Evans (@ChrisEvans) August 29, 2020
Heartbroken. My friend and fellow Bison Chadwick Boseman was brilliant, kind, learned, and humble. He left too early but his life made a difference. Sending my sincere condolences to his family. pic.twitter.com/C5xGkUi9oZ

— Kamala Harris (@KamalaHarris) August 29, 2020
My prayers go out to Chadwick's family and loved ones. The world will miss his tremendous talent. God rest his soul. #wakandaforever https://t.co/j5JWSeiqd5

— chris pratt (@prattprattpratt) August 29, 2020
i will miss you, birthday brother. you were always light and love to me. my god … ✌🏿♥️✊🏿 🙅🏿‍♂️ forever and ever … https://t.co/9pORaKZuQN pic.twitter.com/awX3DiTVwn

— Don Cheadle (@DonCheadle) August 29, 2020
Rest easy, Chadwick. You will be missed.