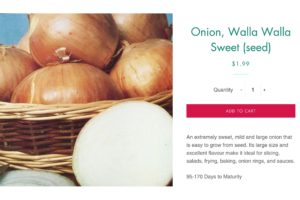 Facebook Blocks Onion Advertisement For Being "Overtly Sexual" And Showing "Too Much Skin"
I'm not crying, you are!
An online onion advertisement on Facebook was taken down immediately because it was deemed as "overtly sexual".
Perhaps the onions in the pictures that were shared by The Seed Company by E.W. Gaze were showing too much skin? Who knows?
Facebook, a social media platform, banned a Canadian seed company's advertisement that featured a fairly plain picture of the root vegetable.
The algorithm reportedly labeled it as overtly sexual.
Facebook blocked the Gaze Seed Company's ad for $1.99 Walla Wallas while claiming that the ad was positioned in a "sexually suggestive manner".
It turned out that the company mistook the onions for a pair of breasts.
Well, nope, onions make your cry but breasts make you smile.
Jokes aside, let's get back to the topic.
Jackson McLean, a manager at the Newfoundland-based firm, talked about the possible reason why Facebook banned the ad of the onion seeds.
In a statement that he released, he said:
I guess something about the two round shapes there could be misconstrued as boobs or something, nude in some way. You'd have to have a pretty active imagination to look at that and get something sexual out of it.
On Saturday, McLean posted a screenshot of the message with the caption of: "Just got notified by Facebook that the photo used for our Walla Walla Onion seed is "Overtly Sexual"… Can you see it?"
He later asked for the website to review the ban that was placed on his advertisement.
After his post went viral on social media, Facebook admitted that they had made up a mistake in banning the ad.
Meg Sinclair, a representative for Facebook Canada, released a statement about the incident, where they said:
We use automated technology to keep nudity off our apps, but sometimes it doesn't know a walla walla onion from a, well, you know. We restored the ad and are sorry for the business' trouble.
What are your thoughts about the hilarious ban on the advertisements? Let us know what you think by leaving a comment down below!