15 Incredible things which occurred in the year 2018 which just ended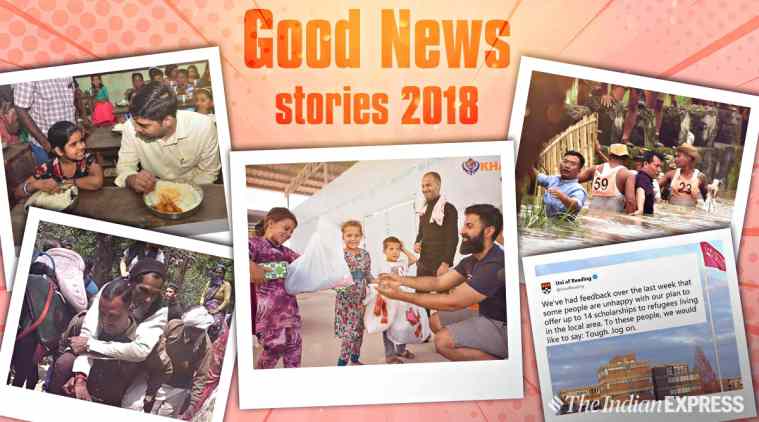 As the year 2018 was accompanied by good, bad, and sometimes ugly things, we have decided to make a positive end to it. Having the spirit of sharing the positivity, we offer you some of the best things which brought joy and happiness worldwide. If you never achieved your plans in 2018, then be positive that all will be possible in 2019.
1. Uttarakhand cops saved a man's life by carrying him on their shoulders a distance of 2km uphill
Sub Inspector of Uttarakhand police department, Lokendra Bahuguna, was in the news headlines for saving a helpless man by carrying him on his shoulder all the way up a distance of 2 km. The man's life was saved when they reached a healthcare centre in Yamunotri. From the information sourced from the Uttarakhand Police Facebook post, Bahuguna was in the team of traffic police managing traffic in Bhario Ghati. This track is located between Vaishno Devi and Sanji Chhat.
2. A man Chooses humanity over religious: he broke the most observed Ramadan fast and donates blood to a thalassemic child
An 8-year-old child was saved by Jawed Alam who is a staunch Muslim. He broke his Ramadan fast and donates blood to save the child. The child was suffering from thalassemia which is a serious condition which requires that the patient should undergo blood transfusion after every three weeks.
3. Tweets by Vigilant passengers aid rescue of 26 minor girls from the train; tweeple laud man
All praises to the vigilant passengers for their tweets which aided the rescue of 26 minor girls from the human-trafficking gang. One of the passengers travelling by the Avadh Express posted an SOS tweeting requesting the railway officials to take any necessary action after he saw the girls in tears in a compartment.
4. UK University's response to critics of refugee scholarships wins hearts online
The response by the University of Reading responded to the complaints raised concerning the refugee scholarships in the most appropriate way. Other British universities had also joined the room to offer their support to the cause. There were lots of reactions on Twitter as people were glad that the educational institutions have stepped in to assist the displaced persons as a result of political differences and war.
5. All smiles as UK Sikh NIG offers Eid gifts to more than 500 Syrian refugees
The Syrian refugees will now smile as they have been gifted with special Eidis this year. Sikh NGO gave over 500 refugees surprise gifts. Khalsa Aid is a UK based NGO which offers relief and does a favour to humanity in various places of distress and makes children to wear that broad smile in their faces
6. A man appreciated online for saving the blind who fell on subway tracks
A Canadian became a hero for risking his own life to save a blind man who lost balance and fell on the tracks at a train station. The man who was later identified as Kyle Busquine didn't fear the danger of electrocution and went ahead to save the blind man at Broadview Station in Toronto.
7. In the food quality assessment, Kerala IAS officer takes his lunch together with the students; wins heart online
The impromptu visit by the district collector to a school has been praised online. An IAS officer in Kerala visited a school in Neerkunnam to find out about the quality of the lunch meal and ended up sharing their meal. The beautiful show by the officer motivated both the school children and the online community, who credited him for his vigilance and dedication to his work.
8. 'Hats off': Manipur IAS officer became a hero after actively participating in a flood rescue process in waist-deep water
A photograph of an IAS officer Deleep Singh from Manipur standing in the middle of waist-deep water while leading the flood rescue operation in the area affected by floods in Imphal was shared by many people online. The photo features the flood control secretary, Mr Singh, getting into action.
9. The DU professor's post on Facebook showing how teachers contributed fees for a student gone viral
Nandini Sen, who is a senior professor at Bahati College situated in West Delhi, shared a heartwarming incident on Facebook which indicates how teachers at the college raised fees for a student. Among very many students who are applying for a chance to take undergraduate programmes at the DU, one of them qualified but could not join on the account that she lacked college fees.
10. Khalsa Aid volunteers finally got to Kochi and then set up Langar to offer 2000 people food
Kerala was attacked by one of the worst floods in a century leaving behind victims. Sikh volunteers from Khalsa Aid International which is a UK based NGO have finally reached the state to assist the victims. Their Indian group volunteers got to Kochi and set up Langar to feed over 2000 flood victims.
11. Sachin Tendulkar receives praises online after rescuing and feeding dehydrated Kite
The cricket legend Sachin Tendulkar is known for his amazing performance when he gets to the fields and also his active role in sensitizing people about their social responsibilities. From the video clip shared by him on Facebook, Sachin could be seen administering first aid despite the fact that he is not good at it.
12. A photo featuring a dog as it waits for a homeless man at the hospital entrance has gone viral
"Dogs are man's best friend" is a famous saying which is true and this post which went viral proves it. A homeless man was admitted to a hospital in Brazil and the hospital staff realized that the man was not alone. He had four dogs which waited at the entrance the whole time the man was being treated.
13. An Argentinian police officer receives an unexpected promotion as a photo of her breastfeeding an infant goes viral
The Argentinian police officer's act of kindness won hearts of millions online after a photograph of her feeding a neglected infant was shared online. Celeste Ayala breastfed an infant who was rescued along with five others from their home. After her much appreciation online, she was promoted.
14. It was all praises from different parts of the world as Thailand cave rescue operation ends successfully
The rescue operation aimed at saving 12 football boys and their coach who were trapped in a cave in Thailand ended successfully after many weeks of struggle to save them. All of them were brought to safety alive! People from different parts of the world congratulated the rescue team and praised the courage they had to rescue the boys.
15. Andhra MLA spends nights at the crematorium to remove the fear of ghosts; gets praises online
Palakollu MLA Nimmala Rama Naidu spent three good nights at the crematorium to remove fears from workers who refused to report to work at the site. The photograph of MLA sleeping at the feared crematorium has been shared online with many people praising his bravery.