Bakrid Eid Mubarak 2017 SMS Messages: Happy Bakr-Eid SMS, Shayari, Greetings, Whatsapp Status in Hindi, English
We wish you a Happy Eid Ul Adha. Bakr-Eid or Eid al-Adha or Id-ul-Azha, is one of the most important festivals celebrated by the Muslims all over the world. Eid al-Adha falls on the 10th day of Dhu al-Hijjah. This festival is also known as 'the feast of sacrifice, the Greater Eid' and it honors the Abraham's willingness to offer his only son Ismail as a sacrifice at God's command. But then God intervened through his Angel Jibrail who informed him that his sacrifice was already been accepted. On this day, goats are sacrificed as an offering.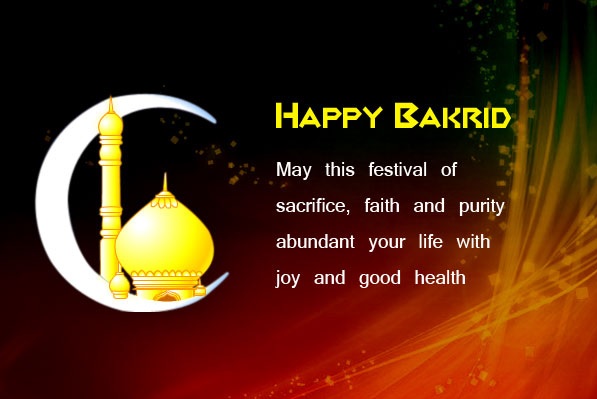 Bakrid is celebrated with great zeal and enthusiasm among Muslims. The festival starts with prayer as the people gather filled with resonance of 'Allahu Akbar.' Men and women dress up in new clothes and go to mosques. They offer special prayers or 'Dua' for the peace and prosperity of all Muslims. After the prayer, sacrifice is done. Muslims greet one another 'Eid Mubarak' and share their warmth. They visit relatives and friends and exchange gifts. Special delicacies and dishes are prepared and served amongst family and friends.
On this eve of Bakri Eid, we have gathered best and beautiful SMS and Wishes for you to greet each other which you can send to your lovely family, relatives and friends. Here we provide you latest and best collection of messages, shayaris, greetings, wishes for whatsapp, facebook, etc. We just hope you celebrate and strengthen the bond of love with your loved ones.
Bakrid Messages SMS:
When my arms can't reach people close to my heart.
I always hug them with my prayers.
May Allah's peace be with you.
A very happy Bakrid Mubarak 2 U.
Bakra Eid Mubarak
May Ur Plate Of Life
Be Always Full Of Juicy Kebabs& Tikkas
Topped With The Chutney Of Happiness
With Best Wishes
Bakra Ka Sample
( _ ) ,=.____
',,'/ " :. : :.)
__!,!,!""""!,!,!"_*
Jisne Qurbani Me Hissa Lenä Hai
Wo Sirf 100 Ka
Bälänce Bhej Kar Booking Karwa Lay.
Eid Bakrid Mubarak Wishes Greetings:
Here comes the day, once in a blue moon.
With chanda mama shining up bright
And blessing everyone. Her luv so tender, merciful.
Shining down on the earth wishing us "Happy Eid".
Ye Kya Hai EID?
Accountant Ne Kaha,
E: Extreem Happy, I : In, D : Divide Expenses.
Businessman Ne Kah,
E: Esteem Happy ,I : In ,D : Discount
Lawyer Ne Kaha.
E : Event Of ,I : Increase ,D : Dual Happy
Lovers Ne Kaha.
E: Eik Or ,I : I ,D : Date
Happy Bakrid Messages in English:
After 1 day After 24 hours After 1440 min After 86400 secEvery1 will send u this msg but i m the 1st telling u and ur family Eid Mubarak.
May the magic of dis EID
bring lots of happiness in ur life &
may u celebrate it wid all ur close friendzzzzzz &
may it fill ur HEART wid love
The moon has been sighted
The samoosas are ready
Here comes EID so just go steady
Lots of dua's is all I request
And just wanted to wish you all the BEST!!!
Eid Mubarak !!!
Bakrid Mubarak 2017 Status For FB & Whatsapp:
May this…Eid bring Fun May this…
Eid bring Fun, Eid bring Happiness,
Eid bring God Endless Blessings,
Eid bring fresh love…
EID MUBARAK to You with all best wishes
Teri Jaan, Meri Jaan,
Meri Jaan toh Tu Hi hai,
Log Dekhein Eid ka Chand,
mera Chand Toh Tu Hi Hai
EID MUBARAK
Stay tuned to this website. We will update latest Eid Mubarak images, wallpapers here. Press CTRL+D to bookmark this page for easy navigation.