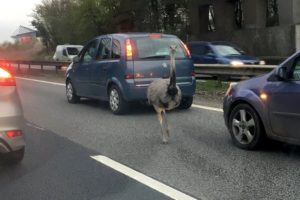 Escaped Ostrich Runs Between Lanes And Causes Rush Hour Chaos
An Ostrich named Colin caused a rush hour chaos after he ran between lanes on a busy road in the UK.
On March 21, an Ostrich that was brown and grey in color was spotted running between cars along the A12 in Colchester, Essex.
Drivers had to slow down and had to switch lanes to avoid the running bird.
A video that was shared online, showed 2 people trying to herd the ostrich away from the cars and on to the grassy part of the busy road.
Grace Hoffman who filmed the incident said, "There was suddenly standstill traffic and I pulled to a stop. When I looked forward… an ostrich was just walking down the side of the road. A couple of people got out and helped but I think it was contained safely."
Colin was later on returned to Debbie Johnson, its owner, Debbie also confirmed that Colin also left his home to wander the roads in 2018.
Debbie said, "Yes, it is Colin the same one as last year. He's home safe now and very sorry for causing chaos again."
In one of the pictures that were taken, you can see Colin looking directly at the camera as he walks by the heavy traffic on the A12.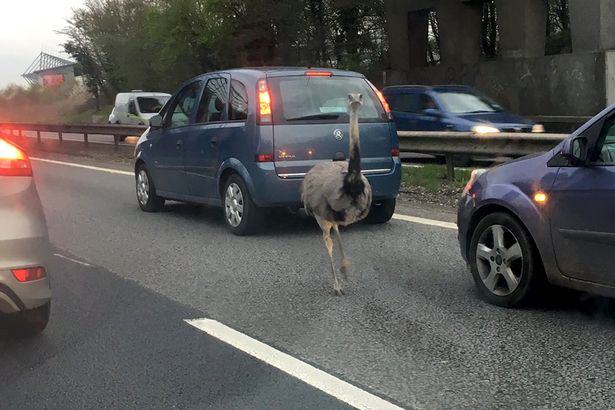 Luke Scorfield said, "It was very unexpected. It ran across the road and stopped cars."
The Essex police said, "We were contacted at around 5:30 pm following reports an ostrich was running loose between junction 27 and 28 of the carriageway."
You may have seen earlier that this cheeky chap went for a wander up the #A12 with help from Sgt Andrews and PC Hercules he is now safely back home. Our job isn't all crashes and fines you know! @essexlive pic.twitter.com/88NlIT7JNA

— PC James Ireland (@PCJamesIreland) March 21, 2019