Happy Teachers Day 2014 SMS Messages Sayings Poems
Happy Teachers Day 2014 is around the corner and it is time to wish your teachers Happy Teachers day.  Teachers Day in India is celebrated on 5th of September. It is celebrated on the account on the Birthday of Dr. Sarvepalli Radhakrishnan. Teachers tap the fertile mind of young children and plant the seed of curiosity in them. This inculcates the values of self-learning, exploration, and philosophical inquiry. Here we provide you the ways by which you can make this day special for you and your teacher.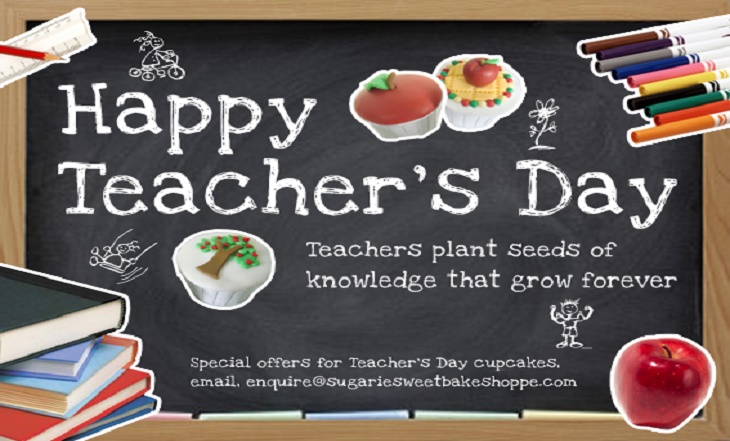 Happy Teachers Day 2014 Messages 
Guru Brahma; Gurur Vishnu;
Guru Devo Maheshwara;
Guru Sakshat Para Brahma
Tasmai Sree Gurave Namaha.
Happy Teacher's Day!!!
Teacher is God Message
Teacher is a person
who always helps everybody
to get the knowledge
and always stands beside the students
when they have problems.
Thanks for being my teacher.
Happy Teachers Day!!  
Without you, we would have been lost.
Thank you teacher for guiding us, inspiring us
And making us what we are today.
Happy Teachers Day!!
"With a special gift for learning
And with a heart that deeply cares,
You add a lot of love"
"Teaching Is Leaving Of One Self
In The Development Of Another.
And Surely The Student Is  Bank Where
You Can Deposit Your Most
Precious Treasures."
Tumne sikhaya ungali pakad kar chalna,
Tumne bataya kaise girne ke baad sambhalna.
Tumhari wajah se aaj hum pahunche is mukaam pe,
Guru Purnima ke din karte hain aabhar salaam ae.
***Happy Teacher's Day***
You are best Teacher in this world
I will always remember that
I had an excellent guide
In the form of a teacher that isYou
Happy Teachers Day!!
Happy Teachers Day 2014 Poems
Aapne banaya hai mujhe is yogya,
Ki praapt karoon mai apna lakshya,
Diya hai har samay aapne sahaara ,
Jab bhi laga mujhe ki mai haara.
Par main hoon kitna matlabi,
Yaad kiya na maine aapko kabhi,
Aaj karta hoon dil se aap sab ka sammaan,
Aap sab ko hai mera shat shat pranaam.
Thank you, teacher,
for being my life's role model.
When I consider all you've taught me
and reflect on the kind of person you are,
I want to be like you
smart, interesting and engaging,
positive, confident, yet unpretentious.
I want to be like you
well-informed and easy to understand,
thinking with your heart as well as your head,
gently nudging us to do our best,
with sensitivity and insight.
I want to be like you
giving your time, energy and talent
to ensure the brightest
possible future for each of us.
Thank you, teacher
For giving me a goal to shoot for
I want to be like you! 
When I looked upon myself
What I am today
Then I recall the days..
The time when I had lost ways..
The shivering where to go days..
I was just growing up,
I was just joining the world,
A time when you want do some,
Something good but
Donno what to become..
I know teachers are there to teach,
Yes they were there for every reach..
N there was someone..
He was my mind breacher..
Yes, My that special teacher,
He gave me a brand new start,
He guided me through the way..
When I was a nothin but a brat..
I read me inside out..
Tout me which I really ought..
I am thankful to my mentor.
the teacher I got..
the changes he brought..
Gave me new life of thought !!