'Hawk Eye': This Iraqi Veteran Sniper Is Responsible For The Deaths Of 384 ISIS Members
Death is just an old friend of mine.
This Iraqi veteran sniper, who is also known as the living "Hawk Eye", is responsible for gunning down around 384 ISIS members.
He managed to do all that before passing away in the year 2017.
Abu Tahsin al-Salhi, the sniper, was a veteran Iraqi Militiaman.
He was a local legend after managing to kill 384 ISIS members.
The man was often seen riding an off-road motorbike and was wearing a black and white checkered scarf along with some fingerless gloves.
Al-Salhi was inseparable from his Steyr rifle, a gun made in Australia.
He managed to kill hundreds of people with his lethal gun.
It is believed that Salhi was born in 1953 and was involved in the 1973 Yom Kippur War, along with the Iran-Iraq war, the invasion of Kuwait, the Gulf War, and fight against ISIS.
The man was a born warrior you can say.
He told news outlets that he killed at least 321 Islamic State members.
The numbers later rose to 384.
However, death came to him one day when he was battling against the terrorists in an attempt to retake Hawija, which is located in northern Iraq.
That happened 3 years ago.
According to the Israel Times, al-Salhi passed away as he advanced on Hawija, as confirmed by Ahmad al-Assadi, a spokesperson for the Hashed al-Shaabi alliance.
The funeral of al-Salhi was held near the southern port city of Basra, with close friend Ahmad Ali Hussein.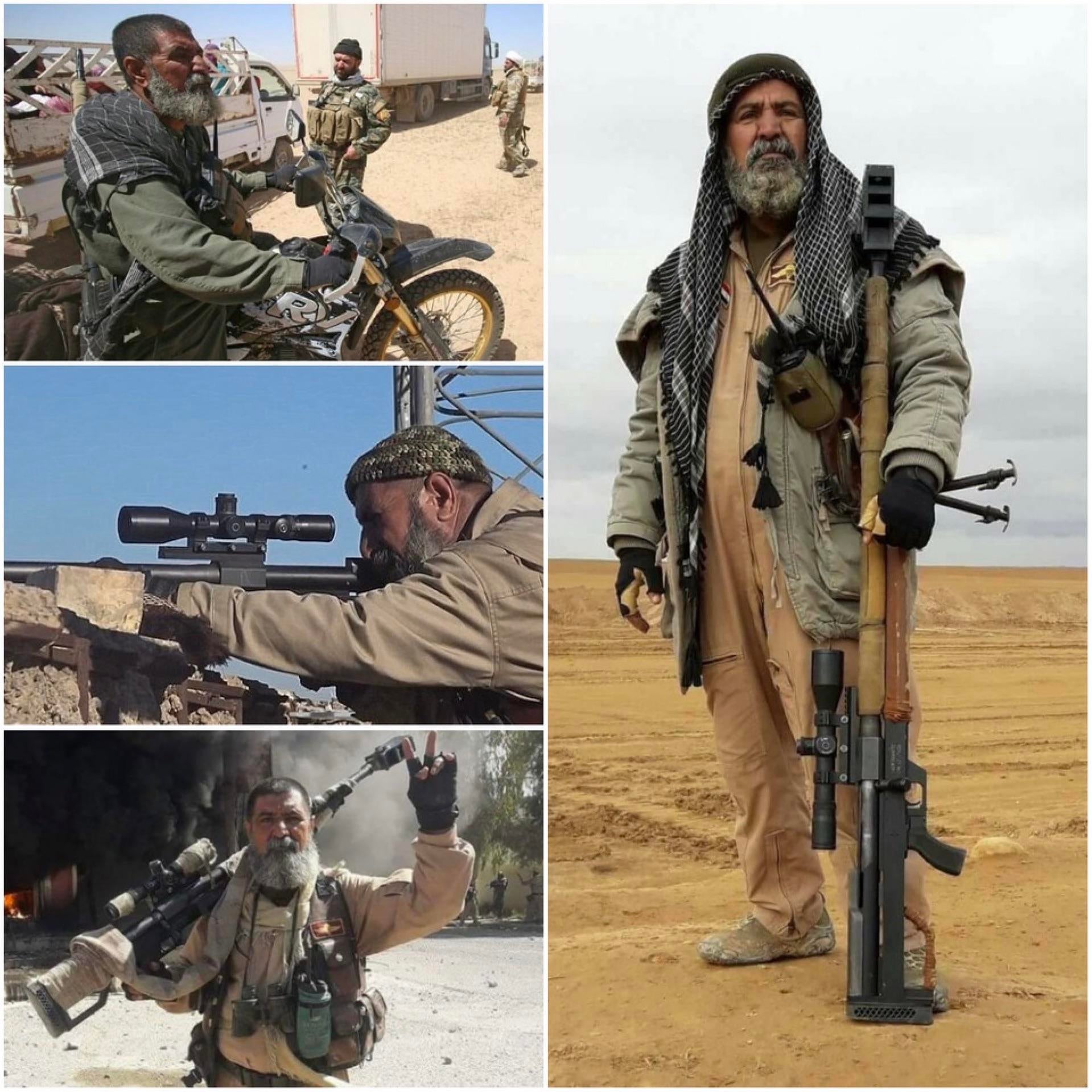 He was widely known by his friends as 'Hawk Eye' or 'The Sheikh of Snipers'.
During an interview with British explorer Levison Wood in an interview, al-Salhi discussed why he became a sniper.
He told Wood: "Hunting is my hobby. I shoot out of certainty because I know my enemy and the enemy of humanity."
Abu Bakr al-Baghdadi, a former ISIS leader, also placed a $250,000 bounty to exterminate him.
He was known by the terrorists as the sniper of Hashd al-Shaabi.
What are your thoughts about Abu Tahsin al-Salhi? Let us know what you think about him by leaving a comment in the comments section below!