Mobile Company OPPO Official Makes Derogatory Comments On India And Calls Indians Beggars, Check What Employees Did In Return
With the advent of smartphones into the modern world, various Chinese and American mobile companies started selling their mobiles in India in a bid to attain greater profits and bait for a wider market. In this process, a plethora of Chinese companies entered and proved their best in business.
As far as culture and traditions are respected, there is no room for conflicts. Prominent companies like Xiaomi did their very best maintaining the prosperous relations between both the countries. However, a clash has started in Punjab's OPPO service center after a Chinese authority made some distasteful and derogatory statements on Indian employees.
Sources claim that the OPPO official keeps assigning work to the employees even after the scheduled time, which makes them go home at late nights. It is also said that the official often treats Indians hatefully, calls Indian employees beggars and states that Indians often work just for the sake of money.
These utter statements from the official infuriated the employees, facing such humiliating comments was very difficult, so the employees ended up doing something that is very uncommon.
They had a private meeting, then came up with one strong decision.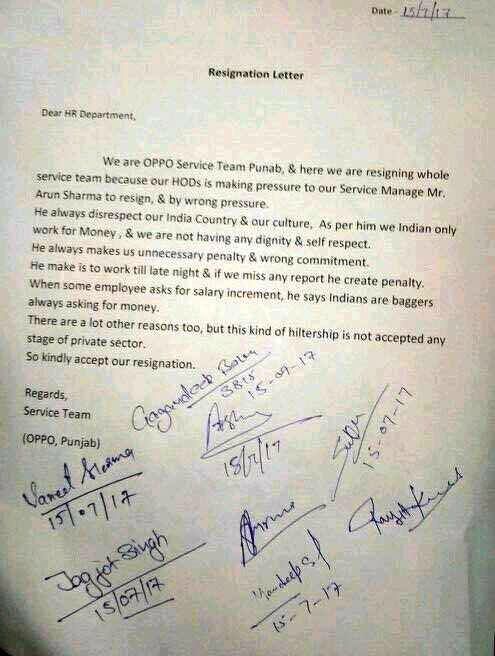 In a bid to give a bashing reply to the Chinese official, all the employees in the Punjab service center submitted a mass resignation letter.
The employees, in their letter, stated the reasons behind this deed, explained the comments passed by the HOD (Chinese official) on them. They then concluded that there are many other reasons too, but such disrespectful comments are the prior reason.