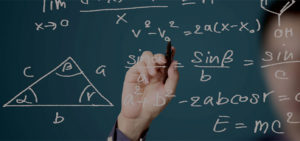 Some promising career options after M.Sc. Mathematics
Mathematical professionals are in demand across the world. Although a large number of careers after pursuing mathematics are based within the science and technology-related sectors, some positions are also based in the field of business, law or medicine. Here is a list of employment sectors where you can easily find career opportunities that align with your mathematical skills:
Accountancy and finance – A career in accountancy or finance offers a wide range of options for maths graduates across several industries. You can either choose to be a Chartered Accountant or become a professional by gaining further qualifications.  You can take up jobs such as:
Auditor;
Tax accountant;
Forensic accountant;
Management accountant;
Corporate advisor.
Banking – The field of banking gives maths grads a wide range of scope from retail banking to corporate investment banking. Here, you may have to deal with financial assessment in public and private ventures, as well as explore opportunities in specialised areas such as mergers and acquisitions, bonds and shares, privatisation, lending and public offerings (IPOs).
Actuarial Science – Mathematics students working as actuaries are accountable for evaluating financial risks in order to manage and give advice to clients. They combine risk analysis skills with in-depth knowledge of economics and business to ensure sound investments are made and commercial/business goals are fulfilled.
Statistics – As a statistician, you will be required to focus on the collation, analysis, interpretation and presentation of statistical and quantitative data. Maths graduates in the field of statistics typically spend their time managing, collecting and organising data by conducting surveys, experiments and contextual analysis.
Academic research – Careers in academia and research are apt for students who want to experience the challenge of driving forward the next series of discoveries, theories and applications in the field of maths. Academic and research-based careers in maths can be extremely wide-ranged, depending on the specialisation.
Engineering – Although less explored, a postgraduate degree in mathematics is one of the best ways to enter the field of engineering and earn a degree in applied science. Maths graduates generally have the skillset to solve real-world problems. This enables them to do jobs in mechanical, structural, aeronautical and other realms of engineering.
Meteorology – In this sector, mathematics professionals execute job roles that involves studying weather conditions using data collected from across all regions of the world. They then interpret causes and prepare forecasts by employing strong skills in analysing and interpreting complex mathematical data.
Teaching – Besides academic roles with a research focus, teaching is considered equally rewarding when looking for a career in maths. This may need you to top-up your mathematics degree with a formal teaching qualification.
Choose to study M.Sc. Mathematics and gain access to lucrative career opportunities in sectors you may never have even considered! Apply today to get an in-depth understanding of what all you can do with a maths degree under the belt.