The eight hidden in the 8 of diamonds card is blowing people's minds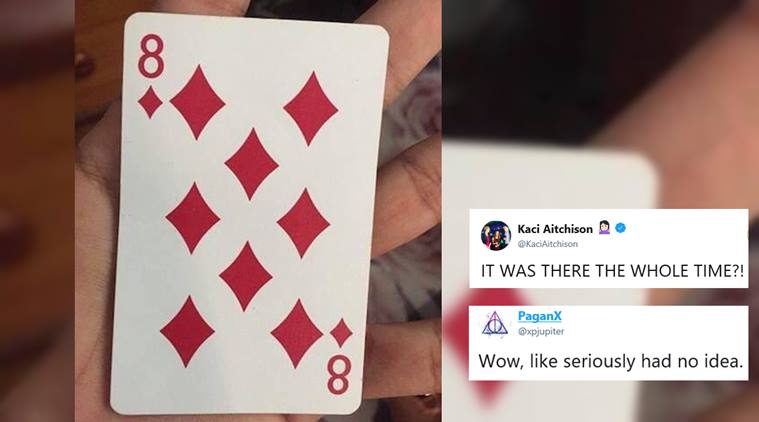 The internet is a big source of knowledge. If you do an exploration, it is unpredictable. A thing took place when a Twitter user shared a photo of a mundane number 8 diamond card.
Plinkety Plink, who is the Twitter user shared the photo from some cards. There are more than one lakh likes and thirty-six thousand retweets. The tweet is going viral and has generated a big buzz online.
What age were you when you first saw the 8 in the middle of the 8 of diamonds? 😯 pic.twitter.com/GjRLkyl7Vu

— Plink (@PlinketyPlink) November 17, 2018
Can't find it? Well, a few helpful users did draw it out for others. Take a look here.
asy hai isko dekho phr orignal pic.twitter.com/lZLxrgJhmg

— Venom (@Hassan_xDD) November 19, 2018
What started out to be a random tweet, stunned people all around the globe and most said it was not until this tweet they had realised that the number was hidden on the piece of card. While most said they can't "unsee it" other remarked it was a life-changing revelation.
Today years old https://t.co/HIf3ChAwgq

— Suhel Banerjee (@suhel) November 20, 2018
I'm embarrassed. https://t.co/Lwr3XR5VNB

— Fatima (@ciao_fatima) November 20, 2018
*mind blown*. Totally didn't know about this till now. https://t.co/sjFkm7Pbdk

— Larry (@larryamiel) November 20, 2018
Fifty-three. Where have I been all these years? https://t.co/NGkTNaZor7

— J.C. Kenney (@JCKenney1) November 20, 2018
IT WAS THERE THE WHOLE TIME?! https://t.co/UnXcPEv6sQ

— Kaci Aitchison 🤷🏻‍♀️ (@KaciAitchison) November 19, 2018
cant unsee it https://t.co/lv5FEXitQY

— blank (@cobypabo) November 19, 2018
Had to check! ♦️♥️♠️♣️Maybe that's why it's called crazy 8's-all that looking drove some people crazy🤪! I see my Pinochle game getting better pic.twitter.com/b4B37dIfor

— Kim Thornton (@KimCThornton) November 20, 2018
Cripes! I just saw it right now. And in 3 months and 2 days I'll be 67.

— Salman Rashid (@odysseuslahori) November 19, 2018
Mind blown lol just noticed now pic.twitter.com/2qBbJlvRZc

— 🐈Donna🦄 (@Fight4Me2) November 19, 2018
I think we all discovered this together. 😦

— Eri Neeman (@erineeman) November 19, 2018
41 yrs, 9 months, and 28 days old. Btw, I am now 41yrs, 9 mos, and 28 days old! 🤣🤣🤣🤣🤣🤣🤣🤣

— Ebony Edwards-Ellis (@Eedwardsellis) November 18, 2018
Did you know there was a hidden eight on the card?