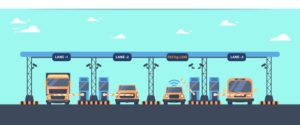 Travelling by Road? Here are Four Essentials
Road trips make for perhaps the most exciting journey to a destination. The wind in your hair, the soft melodies playing in the car, and carefree chatter with friends – who doesn't like taking a dreamy road trip?
When planning your journey, however, there are some essentials you just can't miss. Once you've traced the route on a map and packed your bags, you must make sure you have the following for a safe and happy journey:
Car Insurance
Because the possibility of mishaps always exists, it's best to prepare yourself for worst-case scenarios. Purchasing car insurance will protect you from having to pay for damages that may be incurred on the road. In fact, the Motor Vehicles Act, 1988 makes it mandatory for all car owners to purchase at least a Third-Party Liability Insurance that insures one against the implications of accidental injuries or vehicle damages.
You may also consider purchasing a comprehensive car insurance. It offers a wider cover for damages, which includes those incurred during calamities, both natural and man-made, such as earthquakes, landslides, theft, etc. You can increase the coverage of your car insurance with low-cost add-ons as well, such as personal accident cover, zero depreciation cover, etc. Before buying one, compare the features of different policies and premiums online and secure your road travel.
 Travel Insurance
While car insurance covers all damages that may occur on the road, travel insurance provides coverage for unforeseen circumstances related to your trip. For a road journey, you must make sure you have a travel insurance policy that covers at least the following:
Trip Delays: In India, the possibility of your trip being delayed due to traffic snarls is very high and thus, you must consider purchasing travel insurance. This is especially necessary for trips that include non-refundable bookings.
Medical Emergencies: While your car insurance would cover medical emergencies for when you're on the road, you need to protect yourself from emergencies that could occur otherwise as well. These include the unlikely events of food poisoning, injuries from adventure activities, etc.
FasTag
In India, travel via road requires passage through numerous tollgates, especially if you're covering long distances. The process of waiting in line and making sure you have loose change for the toll payment can be frustrating for the driver. Now you can choose for a more convenient method for toll payment, one that doesn't require the use of cash.
The FasTag was introduced recently and has been made mandatory for new vehicles purchased after December 2017. The FasTag is placed on the windscreen at the front of a vehicle. It allows owners of the vehicle to zip past toll plazas without having to stop for cash transactions. This is done with the implementation of Radio Frequency Identification (or RFID) Technology. FasTag has the following features and benefits:
Easily rechargeable and convenient, FasTag allows users to go cash-free
Numerous methods of payment for recharge including BHIM UPI, credit cards, debit cards, net banking, etc.
The card is valid for five years after the initial purchase.
Users get SMS notifications whenever toll charges are deducted and/or when card balance is low.
On all toll payments made via your FasTag, a cashback of 5% is available till March 31, 2019.
Nexxt Credit Card
Traveling via road involves numerous instances of making purchases or paying for products and services. These payments could be made in cash or through your credit and debit card. However, the type of credit or debit card you use could greatly affect your trip.
When it comes to payments made during road trips, IndusInd Bank's Nexxt Credit Card stands out. It is touted as India's first interactive credit card and gives you three different payment options to choose from – EMI, Reward Points, and Credit. You can take your pick via interactive buttons placed on the card. While this should be reason enough for you to use the Nexxt Credit Card, there are numerous other benefits that come with the card:
You earn 1 reward point for every INR 150 spent.
You receive a waiver of 1% fuel surcharge at all fuel stations across India
You can enjoy travel services, such as flat tyre replacements, emergency fuel, battery replacements, etc.
You can have access to several concierge services such as event bookings, gifting services, reservations, etc.
There are precautions in place for fraudulent use as well, which include coverage up to your card's credit limit.
So, these are namely the things you must take care of when planning a road trip. These will ensure you have a safe and fun road trip!