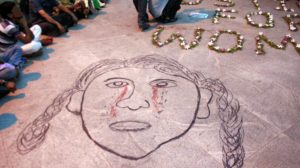 60-Year-Old Man And 3 Men Gang-Raped Woman In Front Of Her Husband In India
Amroha, Uttar Pradesh: A woman was gang-raped by a 60-year-old man and 3 other men in front of her husband.
The incident happened when the woman and her husband were on their way back home.
Preliminary investigations revealed that 4 men riding motorcycles surrounded them, and dragged the woman to a field in the area.
The husband of the woman was also shot by the men when he tried to fight them.
After the woman was raped, the couple went to a village nearby and asked for help.
The police were informed and the couple was rushed to a hospital right away.
The police said the men who raped the woman are all related, and added that one of the rapists is a man in his 60s.
ASP AP Singh from the Amroha Police Station said they are investigating the case.