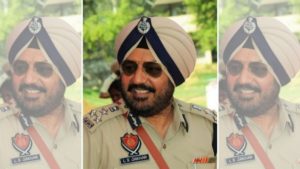 Capt. Lakhminder Singh Jakhar DIG Punjab resigns to show support to protesting farmers
A senior police officer of the Punjab police has announced that they will be resigning in order to show support to the farmers that are trying to eradicate the new 3 farm laws.
Punjab's deputy inspector general of police (prisons) Lakhminder Singh Jakhar made the announcement today.
In a resignation letter that deputy inspector general of police (prisons) Lakhminder Singh Jakhar wrote to the principal secretary, they said:
I Capt. Lakhminder Singh Jakhar, DIG, Prisons would like to inform you of my considered and introspective decision to stand with my farmer brothers who are peacefully protesting against the Farm Ordinances,2020 which are detrimental to the interest of farmers and their future generations. As I am myself a farmer by birth and same being inherited to me from my forefathers who tilled their agricultural lands with hands to grow food and serve mankind. I have always listened to my conscience and now I earnestly feel that I should stand by my brotherhood.
During an interview with ANI, a local news agency in India, Jakhar said that they are resigning because no one is listening to the problems of farmers that are protesting.
DGI Jakhar added:
Farmers have been protesting peacefully for long. Nobody heard their problems. I am from a disciplined force and as per rules, I can't support a protest if I am on duty. I have to decide about my job first then decide further course of action. As per rules, I have to give three months' notice for such an action or I have to submit the paid allowances of that period if I want to resign today. I am ready to deposit the amount because I have to go now. I am a farmer's son and I am proud of it.
Farmers from Punjab, Haryana, UP, Rajasthan, Maharashtra, and other parts are currently protesting against 3 new farm laws in the country. Many believe that the government of India is currently trying to eradicate the ongoing public markets and are paving the way for private investors to get hold of massive quantities of the crops that they want to sell. Another problem that they are point out is the lack of price assurance (MSP) in the new bill.
Farmers all over the country are currently protesting on multiple borders of New Delhi and the protests will go on.