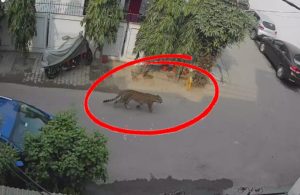 India: Massive Leopard Is Spotted Roaming Around Freely In Residential Area After Attacking Worker
Loss of habitat?
A leopard was spotted roaming around freely in the Rajnagar area of Ghaziabad, India.
The wild cat reportedly entered the generator room of the vice-chairperson of the Ghaziabad Development Authority.
A sweeper that went to start the generator after a power cut saw the leopard.
The leopard reportedly pounced on the man, which forced him to scream.
Some workers that were at the scene rushed to the scene and attacked the leopard in order to save the poor man.
As a result of many people and vicious attacks, the leopard ran away from the scene and entered an institute campus.
The leopard also climbed a tree.
In a video that is viral on the internet right now, the animal could be seen inside the residence of the senior superintended of police.
District Magistrate Ajay Shankar Pandey confirmed the news.
5 teams of the forest department were sent to the scene in order to rescue the animal, which had accidentally wandered into the residential area.
District Magistrate Ajay has requested the residents of Ghaziabad to stay inside their houses as a security measure until officials and the forest department rescue the cat.
The same leopard was seen roaming around the roads of Ghaziabad.
The condition of the worker that got injured in the incident is reportedly stable. The severity of their injury/injuries were not made public.
Let's hope no one gets injured in the process of rescuing the majestic wild cat.