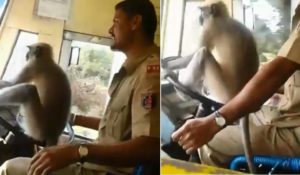 Indian Bus Driver Suspended For Allowing Monkey To Take Control Of The Wheel While Passengers Were Inside
A video that is viral on the internet right now shows the moment an Indian bus driver allowing a monkey to take control of the wheel.
According to reports, the incident happened during a bus ride trip from Davanagere to Bharamasagara.
M Prakash, the driver of the KSRTC bus, could be seen in the video allowing a Hanuman Langur to sit on his lap.
The man changed the gears of the bus and the monkey could be seeing driving the bus while its hands were on the steering wheel.
Passengers of the bus could be heard shouting in the video, but the man was just laughing and was smiling.
Official reports suggest that the incident happened on October 1.
The video was shared on Twitter and it went viral right away!
The man that could be seen in the dramatic video has been suspended from their job.
A spokesperson of the KSRTC Bus Transport released a statement about the incident and said:
We have removed the driver from duty and have asked the divisional security inspector to conduct an inquiry. He won't be assigned any further duty until the probe is completed; he could even be suspended.
According to a person that was inside the bus when the incident happened, the monkey boarded the bus with another passenger.
The monkey reportedly went up to the driver and sat on its lap.
The monkey then took the steering wheel.
An employee of the KSRTC said that the langur came with a teacher that travels regularly on the same bus.
The monkey sat on the seat of the driver and refused to leave despite the best efforts from the passengers.
Prakash, the driver, allowed the animal to sit on his lap and even allowed the monkey to take over the steering wheel at some point, confirmed the employee.
Horrible, just horrible.
What are your thoughts about the driver allowing the monkey to drive? Let us know what you think about it by leaving a comment in the comments section below!