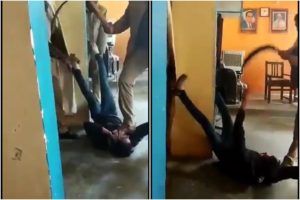 Police Brutally Assaulted Suspected 'Phone Thief' Inside Police Station In Uttar Pradesh Without Carrying Out Investigation
In a shocking video that is viral on social media right now, you can see 3 police officers brutally thrashing a phone thief inside a police station in Uttar Pradesh.
The police officers were from the Deoria District in Uttar Pradesh.
After the video went viral, the cops were suspended and an FIR was ordered against them on Friday.
This is the @deoriapolice , viciously assaulting a young man accused of mobile theft by his neighbour , inside a police station. One cop tries to smash the man's face with his boot , the man is hit multiple times with a belt as other cops pin him down . Three cops suspended … pic.twitter.com/hzDplXrDv0

— Alok Pandey (@alok_pandey) January 10, 2020
The video shows the 3 police officers beating the man while his legs were up.
An officer also placed his shoe on the face of the accused.
Despite the repeated pleas of mercy the man made towards the police officers, the police officers kept thrashing him.
After watching the video, Shripati Mishra, the Deoria Superintendent of Police, suspended the 3 cops in the video.
An FIR was also registered against them.
The thief was also sent for a medical check-up.
SP Shripati Mishra said, "The three cops have been suspended. FIR is being registered against them. The man has been sent for medical examination."
The man in the video has been identified as Sumit Goswami.
Vishweshwar Tiwari, a resident of Mahen village, told the police that Sumit stole his smartphone on January 8, 2020.
The Madanpur Police Station caught Sumit and brought him to the police station, where he was beaten relentlessly, without a proper investigation.
A person that was on the premises of the police station captured the incident on their mobile phone.
The video was later shared on social media.