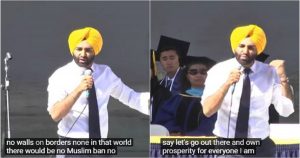 This Sikh Man's Graduation Speech On Prosperity And Unification Will Make You Think Of Priorities
We are living in a world blindfolded by materialistic possessions. Earning a degree from some prestigious institution, working in a corporate company and bagging a six figure salaried job, this is the base objective of everyone. There are very few who crave to do something beyond this.
It is well believed that people from the World's leading universities will lead the world as well, in prospects of politics, business and research ventures. Just as this, here is an Indian-Punjabi named Angad Singh Padda, a Sikh student who mesmerized everyone with his graduation speech at UC Berkeley. The UC Berkeley Leadership Award Recipient from Chandigarh, Punjab took the opportunity to talk about "problems", not of his own but of the world. In a powerful, funny and evocative speech, he urged everyone to fight together for a greater good and "make the world a better place."
This a 23-yeal-old young man who is also a National Jack Kent Cooke Scholar, and the recipient of the Poets & Quants Best and Brightest Business Undergraduate Award played the Tabla before his speech.
To highlight that the heart of every "Berkeley student beats with that passion" to make the world where there "is no I or me but only us and only we," inspiring everyone, he even took the example of an Indian village in order to convey the necessity of morals rather than money and business.
Watch The Full Video Here: