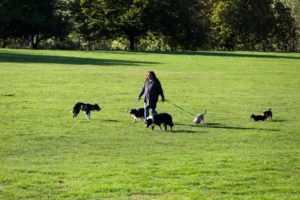 Law Firm In London Is Offering To Pay £30,000 Per Year For Private Assistant Dog Walker
A law firm in London is willing to pay someone up to $39,136 per year to become a personal assistant and dog walker.
Well, count me in cause I'm good with doggos.
Joseph Hage Aaronson LLP in London recently placed an advertisement and it went viral right away because of the good offer.
The advert said that they are looking for someone to join their company so they could support a member of the senior leadership team.
If you get hired, you will be getting anywhere from £20,000 ($26,090) to £30,000 ($39,136) per year and that's not even the best thing.
The one that will get hired will be spending a lot of time with the boss's dog.
You will also get access to private healthcare.
The advert that was posted by Joseph Hage Aaronson LLP in London reads:
An excellent opportunity has arisen for a Private Assistant Dog Walker role to support one of our senior leadership team. We are looking for a down to earth self-starter who relishes variety and is looking for a predominantly non-desk based role as it will require this person to run errands around London. They must be highly organised and well used to an evolving "to do list" and able to keep ahead of what needs doing.
If you get hired, you will be running errands and will become general personal support.
You will also be doing some caring for a small dog.
In order to get hired, candidates are required to have experience within an assistant/errand running role.
Candidates are also required to have experience in looking after and walking dogs.
The working hours are from 9 am to 6 pm from Mondays to Fridays.
Candidates are also told that timings could change in certain incidents, so they need to be flexible with their times too.
What are your thoughts about this job advert? Let us know what you think about this advert by leaving a comment in the comments section below!