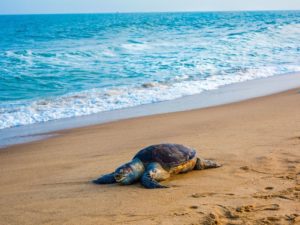 351 Sea Turtles Found Dead Off The Coast Of California Where 137 Sea Lions Died Last Week
It was recently reported that 351 loggerhead sea turtles were found dead in an area at the Baja California coastline where authorities found 137 dead sea lions last week.
The authorities recorded 351 deaths of loggerhead turtles on San Lázaro beach in Baja California Sur.
Along with the provisions of the fishing refuge regulation, it is established that the allowable limit of turtles per year is 90 total.
If the yellow turtle mortality limit is reached, commercial fishing with gillnets, falsework or longlines must be suspended for the rest of the year to avoid such deaths.
The Centro Mexicano de Derecho Ambiental together with the Center for Biological Diversity are asking the National Aquaculture and Fishing COmmisison of Mexico to comply with the provisions that they are going to implement.
The mortality of marine wildlife is not new in the area, said the authorities.
In the span of 1 year, 331 loggerhead turtles, 10 dolphins, 15 sea lions, 131 black sea turtles, 18 olive turtles, and 6 whales were found dead.
In 2018, 459 loggerhead turtles and 97 black turtles were found dead.
Mario Sanchez, the Director of CEMDA's Northwest regional office, said:
We are concerned that the loggerhead turtle mortality in the Gulf of Ulloa is worsening and that the environmental authorities continue to fail to enforce the applicable regulation. The finding of the 137 sea lions killed last week is evidence of the serious situation facing marine species in this area. It is urgent that the Federal Government address this problem, strengthening the capacity of environmental and fisheries institutions, allocating an adequate budget.
Alejandro Olivera, a Center for Biological Diversity representative in Mexico, said that the turtles have been victims of fishing nets.
Fast action is needed to prevent more deaths in the near future!