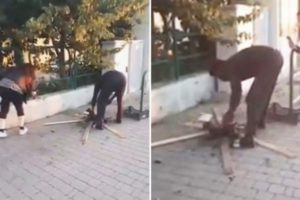 African Man Kills Cat And Barbeques It In The Middle Of A Street In Italy
A heartbreaking video that is viral on social media right now shows an African migrant barbequing a dead cat on an improvised fire in the middle of an Italian town square.
The video has sparked outrage on social media.
According to reports, the incident happened a couple of meters away from a train station that is located in the Comune di Campiglia Marittima in the province of Livorno located in the western Italian region of Tuscany.
Susanna Ceccardi, MEP, posted the video on Facebook where it has been viewed 4.5 million times and was shared by 110,000 people.
She said in the post:
A chilling episode in its brutality, but unfortunately completely true. I congratulate the Carabinieri [local police] who arrested the torturer, now we are asking for an exemplary sentence. I was contacted this morning, immediately after the incident, on Messenger by some citizens who described to me what happened, in shock. And from one of them I received the video: they are strong, raw images. Some told me that as they got off the train they saw the smoke and smelled a very strong, acrid smell. Someone even tried to stop the boy, but there was nothing that could be done for the cat. We are not in the Wuhan animal market but in Tuscany. To the people who have witnessed this scene this morning and who are still shaken by what happened, I want to express my solidarity, for the courage they have had, trying to put an end to this brutality. Now you need an exemplary penalty.
In the video, a woman could be heard shouting at the African native as he cooked the cat on a makeshift fire that he built in the small public square.
The woman could be heard saying "we do not cook cats" and the man replies with "I do not have any money".
The woman accused him of having money for cigarettes, however, the man continued with his feline-themed barbeque.
He did not stop even after the police arrived on the scene.
The man was eventually brought to a police station.
The African nation is believed to be in the country in a legal way.
An official complaint has been filed against him for animal abuse.
The man in the video is a 23-year old Ivory Coast national who has requested international protection in Italy, which by the way has been denied by the authorities.