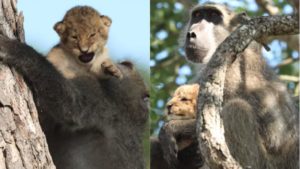 Baboon Adopts And Grooms Lion Cub In South Africa
Nature is full of moments that stuns almost every person, and in the most recent viral moment, a baboon was caught on cam carrying a lion cub a tree and grooming him in South Africa.
This moment happened last week.
Kurt Schultz, a safari operator at the Kruger Safari in South Africa, spotted the unusual behavior of the young baboon while on a morning walk near Skukuza, one of the camps of the safari.
Many people are considering the video similar to a scene straight out of Lion King, a Disney movie that showcases the story of a lion.
The video shows a young male baboon stealing a lion cub, carrying him up the tree, and grooming him as if he was his own.
Kurt Schultz, the safari operator, said he hasn't come across a moment like this in his 20 years of working in the safari.
Kurt said he knew something was wrong in the area when he saw a number of excited gorillas gathered in an area, where granite boulders are located. This place is known for lions to hide their cubs when they are hunting for food.
Upon investigating, Kurt said he noticed the gorillas were fighting over a confused lion cub.
After a short while, the troop settled down and 1 baboon picked up the cub and climbed on a marula tree.
This is where Kurt saw the unexpected.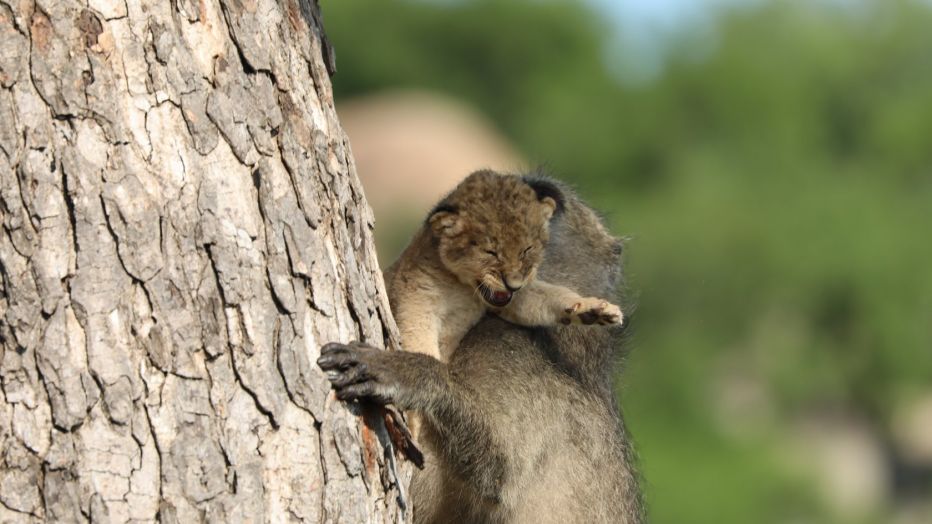 Instead of hurting the lion cub, the baboon groomed the little fella, just like what baboon did in the Lion King.
Kurt said the behavior that he saw is extremely rare as baboons are known to kill and hunt young leopards and lions.
He said he has never seen a baboon grooming and nurturing a baby cub in his 20 years at the reserve.
Kurt watched the baboon for over an hour and he decided to take a number of pictures of the rare act before he had to leave for a meeting.
Kurt left for the meeting, but upon returning to the sight, the lion cub was dead.