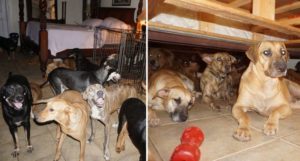 Bahamas Woman Opens Her House To Provide Shelter To 97 Homeless Dogs During Category 5 Hurricane
Chella Phillips, a woman from the Bahamas, opened up her home to provide shelter to 97 homeless and abandoned dogs when Hurricane Dorian hit the state.
During her interview with the ABC news, Phillips said, "It was either leave the dogs on the street to fend for themselves…or do something about it."
She added, "I just want these dogs to be safe. I could care less about the dog poop and pee in my house."
Hurricane Dorian is one of the most powerful storms that have hit the Bahamas.
Earlier this week, Chella said that 79 of the 97 dogs stayed inside her bedroom when the category 5 storm hit their place.
In a post that she made on Facebook, Phillips said, "97 dogs are inside my house and 79 of them are inside my master bedroom. It has been insane since last night, poop and piss nonstop but at least they are respecting my bed and nobody has dared to jump in."
She added, "Each island has abundance of homeless dogs, my heart is so broken for the ones without a place to hide a CAT 5 monster and only God can protect them now."
In a post that she made to inform everyone that she and the dogs were okay, Phillips said, "We are alright after a stressful night. All services are down, all TVs are fried from the lightning's so no more cartoons for the sick dogs until we can purchase new ones."
She added, "I don't see how any dogs or any living being could have survived outside. My heart goes out to them. Thank you for the outpouring support and heartfelt prayers."
Chella Phillips says she has helped save around one-thousand abandoned and homeless dogs in the Bahamas.
Phillips says she has also helped find homes for over 200 dogs in the United States of America.
Faith in humanity restored! Well done Chella! Well done.