Caught On Cam: Colombian Runner Kicks Stray Dog During Race, Loses Sponsorship Deal
A Columbian runner was caught on cam kicking a stray dog during a race, he ended losing his sponsorship deal after the video was shared on social media.
Jamie Alejandro was competing in the Saint Silvester Road Race, which was being held in Neira, Caldas, Colombia on New Year's Eve when the incident happened.
The video of the incident shows Alejandro and other runners running on a street when a brown dog crossed their paths.
The dog tried to cross in front of them, prompting Alejandro to kick it in the belly.
The runners around Alejandro carry on as if nothing happened to the dog.
The dog got back up and went on.
Alejandro posted the video of the incident on social media, apologizing about his acts.
Alejandro said, "I did not consider my actions. I have no excuses and I do not justify what I did. I hope I can repay for this somehow, maybe helping dogs in the street. I will not be posting that on social media but I will know what I did."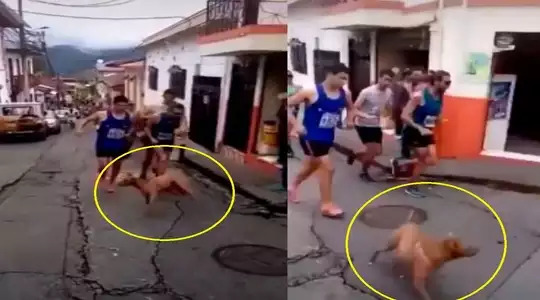 He added, "I am not justifying my actions but it was a moment of euphoria in the race. I was not thinking and I know I can be a brute when I am competing."
Under Armour, the sponsor of Alejandro, released a statement about the incident, announcing that the endorsement deal has been ended.
Under Armour said, "Under Armour has ended its relation with Jaime Alejandro after the video came to light in recent days."
The statement added, "As a company, we do not tolerate any violence or behavior that may harm or put animals in danger."
Alejandro hasn't released a statement about the decision of Under Armour.
Do you think Under Armour did the right thing? Let us know what you think by leaving a comment below.