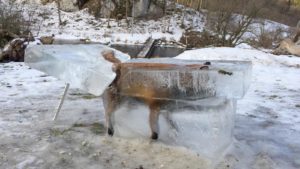 Fox Is Left Frozen In Block Of Ice After Drowning In Germany River
An image that went viral on social media recently shows a fox that got drowned.
The image shows how a fox was left frozen in a block of ice after it drowned in a river in Germany during peak cold temperatures in the country.
According to reports, the incident happened on January 9, 2017.
The animal reportedly fell into a river on January 9 and was discovered by locals 4 days later.
A member of the public used a saw to cut through the ice cube so the animal could be removed.
Extreme winter weather in Germany's aden-Württemberg state caused the incident to happen.
Johannes Stehle, a photographer, captured the image and shared it right away.
Because of the extreme weather, over 60 people were killed in that winter year.
Officials who got to know about the incident also launched their investigation and it revealed the same claims, which is that the fox fell into the freezing water and got stuck there.
I4 days later, a local spotted the fox and used a saw to cut a cube around the wild animal.
The animal did not survive the ordeal.
What are your thoughts about this? Let us know what you think by leaving a comment in the comments section below!